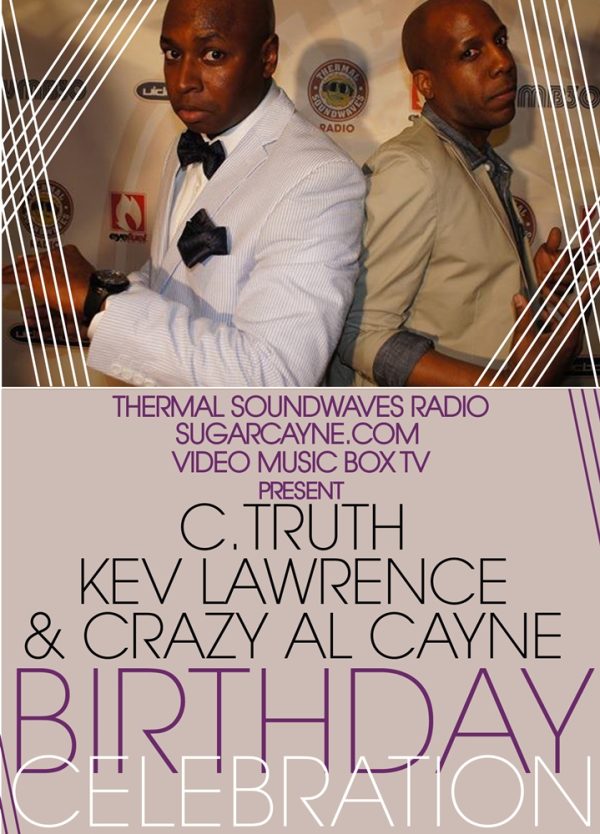 This Thursday my boys and Team Everythang members The Radio Boys (C.Truth & Kevin Lawrence) are having their annual birthday bash and brand event. I will be bringing SugarCayne.com to the festivities, covering the event and celebrating a very belated birthday as well lol. I want all my peoples to come down to network and celebrate with us. FYI I will be taking crazy "Look Away" photos all night!! Big shout out to my dudes C and Kev for putting me down with their event!
It's that time again for the

Radio Boys (C.Truth & Kev Lawrence) Birthday Celebration Event with DJ Bazarro

Thursday, May 8, 2014 at 6:30 pm -12 am
at Taj II Lounge
48 West 21st Street bet 5th & 6th Ave
New York, NY

Come out and celebrate at this Thermal Soundwaves/Video Music Box/SugarCayne.com event, the Birthdays of C.Truth, Kev Lawrence along with DJ Bazarro

Complimentary admission
Music/Video Mix by: Ralph McDaniels
DJ Stokes
DJ AnG

There will be a live art exhibition, Dance performance, Red carpet photo shoot
And more on site.

Special performances by: Napoleon Da Legend, Netousha Monroe, Exit 21

Live TV taping by Sugarcayne.com and Video Music Box

Dress fashionable, 21 & over

For more info: thermalsoundwaves@gmail.com
Tweet: @thermalsoundwav

You are all welcome
Come out and Enjoy Yourself !!!