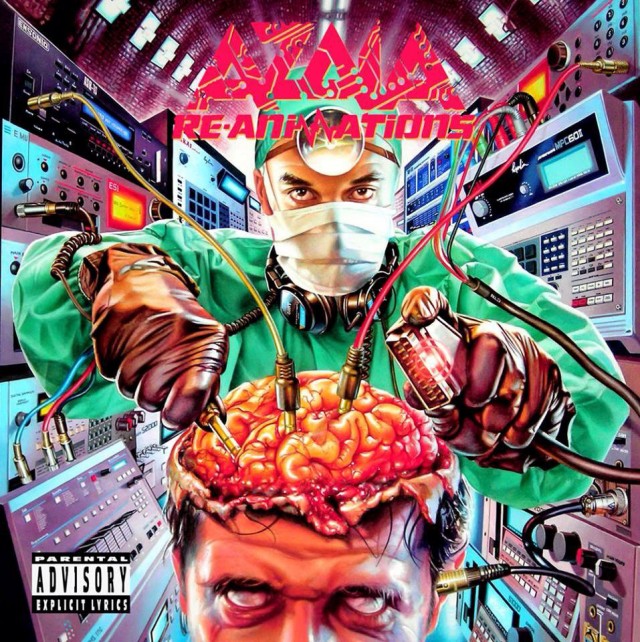 If you've been needing a fix of an album full of golden era boom bap HipHop beats and fire bars then you need to do yourself a favor and get this "Re-Animations" album by producer Azaia. Yo every beat on this album is fire and there's a who's who list of dope emcees spitting fire on this joint. This is probably the best HipHop album you'll here all day……shoot I'll go a limb and say all week! I'm inspired to go back to the lab and make beats after listening to this joint…..THIS IS HIPHOP!!
Description of "Re-Animations"
In the laboratory, a ceiling of a hallway full of neon's lines, many great samplers machines on walls, the lights reflects on a bed, with a dead body layin' on, plugged by RCA cables to a Roger Lynn/Akai MPC 60. The patient presented several symptoms: eardrums burst, brain damaged, blurred vision, audio coma caused by exposure to bad frequencies. Like a hip hop version of Dr. Frankenstein, Azaia operates the brain directly, set the heart's BPM up and push the machine's triggers frantically to get several spasms, the Re-Animation begins….

"Re-Animations" is the debut album of AZAIA, a real "solo producer album", as Pete Rock "Soul Survivor" or DJ Spinna "Sonic Smash". This LP brings a modern approach to the 90's Boom Bap by refusing to reproduce it. Lyrics are provided by several generations of the US underground like Reks, Nine, Street Smartz, John Robinson, Skanks (of Bankai Fam), Wildelux, Dirt Platoon, Kaimbr, Phase one, Blu, and also from South Africa with group The Federation….

Azaia, Marvel Records artist, producer/remixer, got growing appearances on many soon to be classics albums. He's also member of Jupiter A.K.A, a producer group along with Kyo Itachi & Astronote. For his debut album he shows mystical & phat productions skills, all plastered by a central concept and scratches injections, a trade mark on every Marvel Records releases as the incredible front cover painted by Melki.