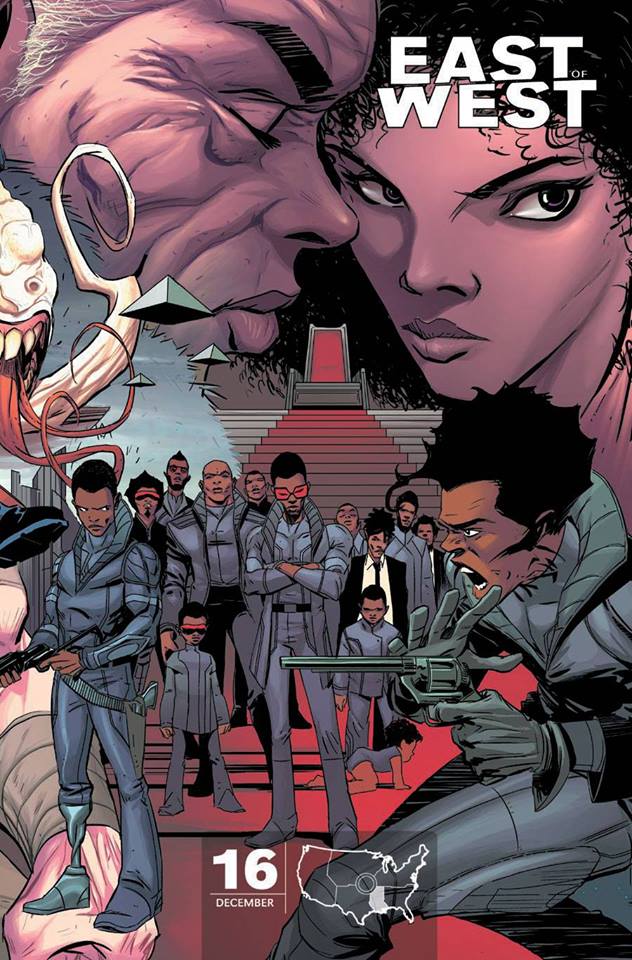 I saw a post of this cool illustration of a variant cover if this comic book series called East Of West on the Comic Book Nerds Of Color Facebook page. I wanted to find out more about the comic so I looked it up on Wikipedia:
East of West is a monthly comic book series published by Image Comics which debuted in March 2013. Created by writer Jonathan Hickman and artist Nick Dragotta, the book is a science fiction Western set in a dystopian version of the United States whose fate rests with the Four Horsemen of the Apocalypse.
The tagline of East of West is "The things that divide us are stronger than the things that unite us." Hickman explained, "The end times are imminent and we all hate each other too much to come together and solve our problems. Our final destination is imminent, and it is the Apocalypse. And then, in the face of all that despair and gloom, somehow there is still hope."The series, a science-fiction Western set in a dystopian America, casts the Four Horsemen of the Apocalypse as heroes who are trying to kill the President of the United States. Of these four characters, Hickman describes Death – a "Clint Eastwood-y" man wearing a suit, cowboy hat and skull bolo tie – as someone who feels "betrayed", and the others (War, Famine and Conquest) as feeling "abandoned". The second arc, according to Dragotta, focuses on the Chosen, "a group of elites from the Seven Nations who are working to bring about the end of the world."
I'm really diggin the plot to this comic and I've been seeing a lot of positive comments and reviews on it. And I love the artwork done by Nick Dragotta.