We love this custom Snowgoons boom box art piece crafted by Dan Lish. The video above shows how the talented artist/designer put it all together. This IS HipHOp!!
"Hip Hop producers Snowgoons teamed up with Montana-Cans and Berlin Boombox to support a worthy cause: Illustrator Dan Lish designed a custom Snowgoons Boombox which will be auctioned online, starting on February 1st until February 28th via the Snowgoons Facebook Page www.facebook.com/SnowgoonsMusic
All proceeds from the sale will directly go to the NYOTA's CHIlDREN PROJECT in Lwala, Western Kenya, a charity project trusted & supported by Montana-Cans for many years. Detailed infos about NYOTA: https://www.betterplace.org/en/projec…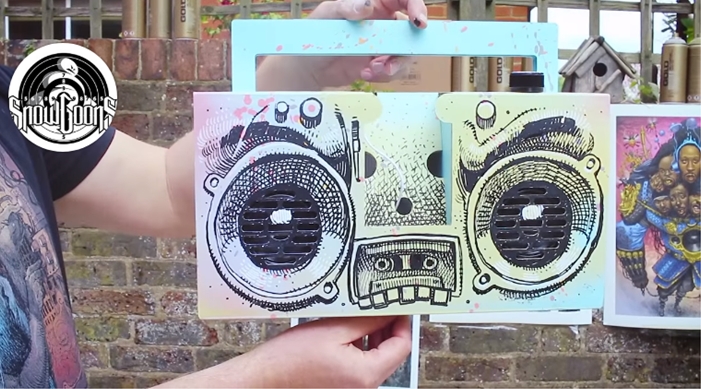 The Berlin Boombox is a mobile speaker inspired by the old school ghettoblasters of the 1980s. It's made from cardboard and flat packed as a DIY kit. German engineered audio technology delivers powerful sound from your smartphone. Berlin Boombox and Montana Cans have been collaborating with a number of famous Graffiti artists to create custom boombox designs.
In his studio in Brighton (UK) Dan Lish – known for his illustrations based on Hip Hop artists like Wu Tang Clan, De La Soul, Outkast… – designed the boombox with Montana Acrylic Markers and the Montana Gold Line Cans. The design is dedicated to the coverartwork he did on the latest Snowgoons «Goon Bap» album, for which he chose light colors and a Snowgoons lettering on the back. The marker details and sprinkles all over the speaker support the vibrant charm."