Supercross BMX released a disc brake specific version of their popular ENVY RS7 model called the ENVY RS7 Fastback. This frame doesn't come with v-brake mounts at all which gives the rear end a really clean look. Continuing the clean look vibes on the RS7 Fastback frame is the addition of internal cable routing. Another new feature to this frame is they beefed up the chain stays to handle the added pressure from disc brake use. Pretty fresh!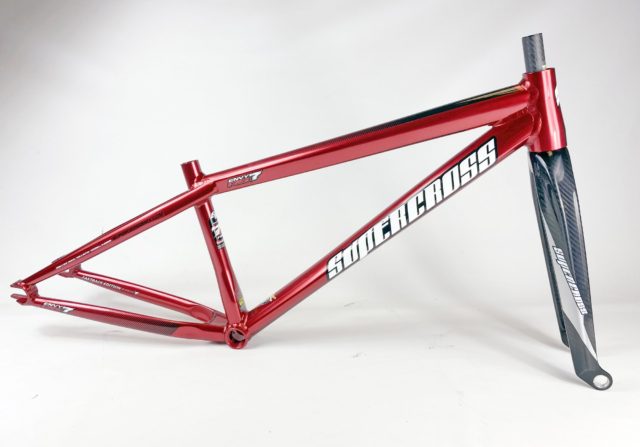 Press Release:
10 years ago we created the first BMX Super frame, the Supercross S7, it was developed as the Ultimate BMX Race frame, and it proved to be just that. It was Ultra Light, Incredibly Responsive, Super Strong, and expensive. But it proved the theory that you can build a sub 3lb Aluminium race frame that will last. This Super frame laid the frame work for our ENVY line of race frames and now 10 years later, we introduce you to the new Supercross ENVY RS7, the true BMX Super frame you can afford.
And now the RS7 is available in a DISC specific model, the Fastback. With the RS7 Fastback the brake posts have been removed, the cable routing has gone inside, and the stays have been beefed up to handle the extra stresses of the disc mount.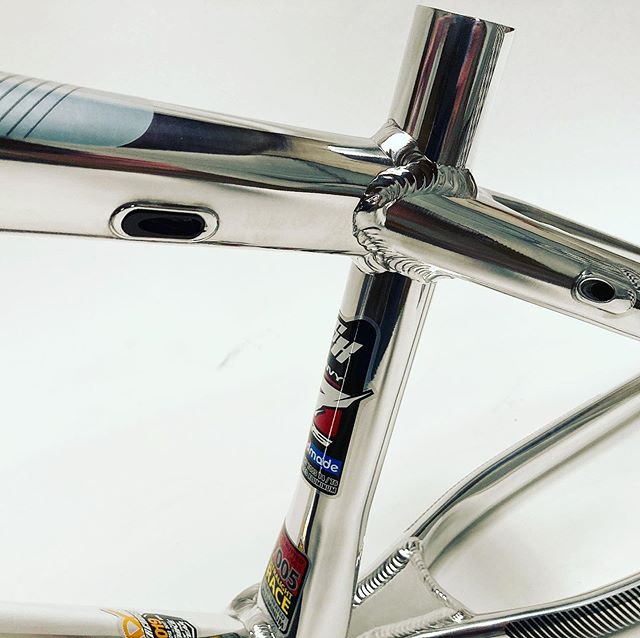 The Supercross ENVY RS7 utilizes our special blend of 7005 ULR Ultra Light triple butted ,custom shaped tubing that is a direct result of working with the exotic Easton® Tube sets for over a decade. Why 7005 Aluminium you ask? Well how about that it has a higher strength and yield than 6061 when it is properly aged and heat treated. Kind of a Superhero of Aluminium. The perfect thing for your race bike. Sound too good to be true? Yea we thought so too, but after a decade of real world testing, we can tell you it is.
Now to you Supercross fans, you will know that the  7005 ULR tubing has been being used on all our ENVY Aluminium race frames for the last 10 years, so what makes the RS7 new? Well remember the first line, it's evolutionary, well that's what's new. When we released the ENVY it was the best, absolute cutting edge for the time, and then we found ways to make it better, so along came the v2, then the v3, the v5, and now the RS7.
So the last 3 years while we have been perfecting carbon BMX racing technology with the ENVY BLK, we have been making notes, taking feedback and listening to what the riders around the world have been saying about the ENVY v5. All in the pursuit of building you the perfect aluminium BMX racing frame.
And with that you have the new Supercross ENVY RS7 Fastback. Available in 5 20″ Pro sizes different sizes to fit all sizes of riders , 3 24″ sizes Pro, XL and XXL and a Pro 26″ Cruiser and 8 stock colours ( Pearl Black, Pearl White, Gun Metal Grey, Racing Red, Metallic Blue,  Hi Vis Yellow,  Matte Black, and Mirror Polished ) to make sure it fits your style. And if one of the 8 stock colours isn't what you want, we still do custom anodize and powder coat to enable you to truly make your Supercross ENVY RS7, your ride.

~Supercross BMX
Sizes
20″ Pro, Pro Plus, Pro XL, Pro XXL and Pro XXXL
24″ Pro, XL and XXL
Pro 26″ Cruiser
8 Color Options
Pearl Black
Pearl White
Gun Metal Grey
Racing Red
Metallic Blue
Hi Vis Yellow
Matte Black
and Mirror Polished
Visit SupercrossBMX.com for more info
Spotted on BMXUltra.com