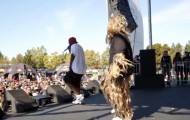 New visuals from Random Axe(Sean P, Guilty Simpson and Black Milk) called "Chewbacca". This song features Long Island's own Roc Marciano and the video was Directed by Noah Friedman…Big Up!!
"Chewbacca is a die-hard Random Axe fan. Watch as Chewy gets ready to see the group perform at Rock The Bells San Fran & is bold enough to join them for a performance on stage after knocking out a security guard."-Youtube.com/DuckDown
To find out more about Random Axe follow Duck Down Records on Twitter: http://twitter.com/#!/duckdownmusic
Follow Roc Marciano on twitter: http://twitter.com/#!/rocmarci
Check out more HipHop Videos on our HipHop page.