I finally got Nitty Scott MC to hop In Da Wip and Spit some fire bars on this episode. Nitty Scott MC has really been on her grind in 2011 making major moves as an independent artist. She capped the year off big with that appearance on the Cipher for the BET HopHop Awards and she's gonna have a really bright future in the game. Make sure ya'll fill out that ratings box above and rate Nitty's performance.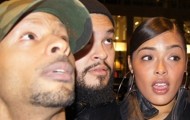 All she needs is at least 10 Votes to be eligible to appear on the Spittin In Da Wip Top 50 Charts, Let's go! Big up to my dude Jules for making this happen and rocking the camera and shout to C.Truth for reppin with Da Wip!
NOTE: Now I know ya'll probably wondering why I picked up the Reeses during Nitty's performance, I thought she was going into a freestyle.