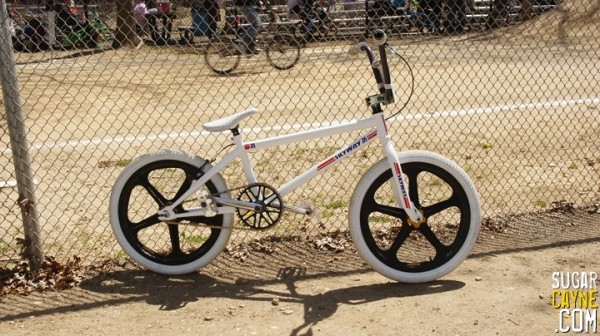 I got sent a 2013 whiteSkyway T/A for an upcoming photo shoot that we have planned with Martino Auto Concepts. You know I had to put it together and see what it looks like up close and it looks so dope! I still have some more parts to put on the bike to get it ready for the shoot but i wanted to give ya'll a lil sneak peak of how it's gonna look. As soon as I got on the bike I took to it right away, it really complimented my riding style,  I also raced with bike at Shoreham BMX and pulled a perfect. Besides the Photo shoot we have planned I'm also gonna be doing a bunch of video edits stay tuned for that.
I have to give a really big shout out to Ken Coster and Ed Ferri for all their support and of course my boy Ant Dog for linking us up! Stay tuned for great things this year!
If you want to get your hands on the new 2013 Skyway T/A 20″ or Cruiser goto PlanetBMX.com, Tell em Crazy Al Cayne sent ya!