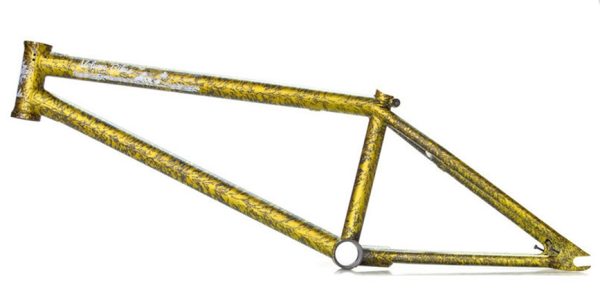 The new Volume Bermuda comes in Flat Black, E.D. Chrome Gold and Raw but the Flat Yellow/Black Splatter colorway is a work of art! This is what I'm talking about, I love to see frames with a unique colorway! Volume should have just made a bunch of splatter colorways of this bike, I's love to see a red or a white blacck splatter frame, that would be sick!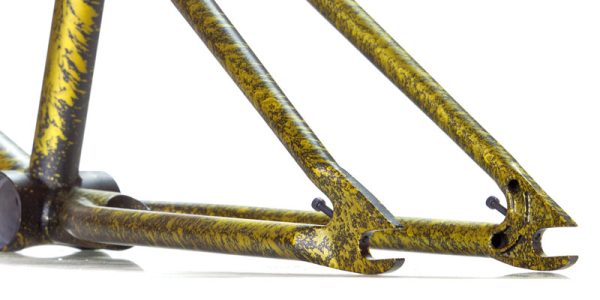 Peep the stats:
Headset: Integrated
Bottom Bracket: Mid
Top Tube Length: 20.75″, 21″ & 21.25″
Chainstay Length: 13.5″-14″
Head Tube Angle: 75º
Seat Tube Angle: 71º
Standover Height: 9″
Brake Mount Location: Seat stays
Dropouts: Heat Treated, 7mm thick Investment casted. Now clears hub guards and pegs of all sizes. 14mm slots
Materials: Full CRMO heat treated tubing. double butted front triangle with top and bottom gussets for added strength
Colors: Flat Black, E.D. Chrome Gold, Raw & Flat Yellow/Black Splatter
Weight: 5 lb 1 oz (2.3 kg) <-Whoa, pretty heavy!