We're big fans of 24′ BMX bikes so when we saw this sick We The People Atlas 24″ We got Hyped!!! If your familiar with We The People line of bikes you'll know that this is the 24″ version of the 20″ Atlas.
As you can see the bottom bracket sits higher than the typical BMX cruiser. Normally a BMX cruiser's bottom bracket has a 11in-something rise but the Atlas has a bottom bracket height of 12.7. What we really love about that is when you hop on this bike you feel like your on a tall 20″. Other than that the bike fells and handles just like a 20″ and best part is you won't feel a big difference when you hop back on your 20″.
We're also diggin the green colorway and big brand decals on this bike. And who doesn't love gum wall tires!!! 🙂
About the Atlas:
The big brother of the range, our Atlas 24-inch cruiser is the perfect vehicle for a chilled session down the pump track or for those times when a set of 20-inch wheels just isn't cutting it. The full crmo frame, fork and bars are backed up with a double wall, fully sealed wheel set and a dialed set of 48 spline cranks with a nice big 27t sprocket, allowing you to really get up to speed with this thing. The bottle green paint job and skin wall tires give this classic beast an eye-catching look that will be noticed no matter where your wheels take you. ~WeThePeople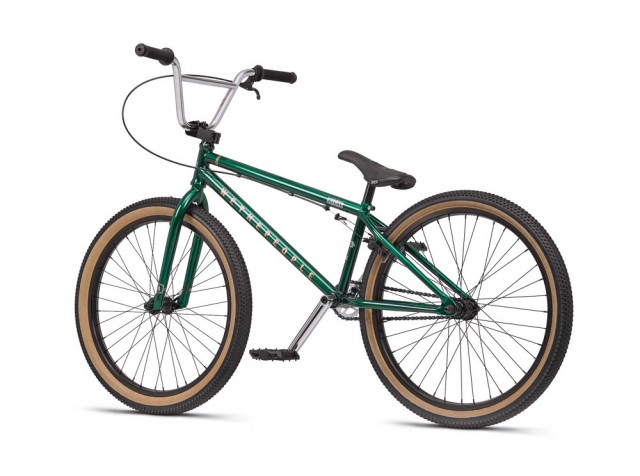 Visit WeThePeople to find out more stats on this bike!