Gary Turner has been on roll since his return to building BMX frames! For his latest set of frames, Gary decided to use some 6061 Aluminum as his material of choice. He also chose the popular cruiser sizes for his aluminum line so you'll be able to get on in your choice of 24″, 26″ or 29″. You know we love those 24″ bikes so we featured the Gary turner 24″ Aluminum frame on this post.
Peep the Stats:
"Gary Turner BMX is moving forward with it's 2018 line up. T6 6061 aluminum cruiser frames built in house at the Gary Turner Factory. Each frame is hand crafted and heat treated. We took our chromoly geometry and converted it to aluminum."
–1-1/8 CUP STYLE head tube
-21.850″ Top Tube Length
-12.400″ Seat Mast height
-EURO Bottom Bracket
-V Brake mounts
-1.500″ diameter top tube
-1.500″ diameter down tube
-.750″ diameter chain and seat stays
-1 1/8 diameter seat mast
-(28.6 seat clamp and 25.4 seat post)
-Seat Mast angle is 69
-head tube is 72
COLORS: We can do desired colors.
Pictured frame is the aluminum's natural color prior to heat treat.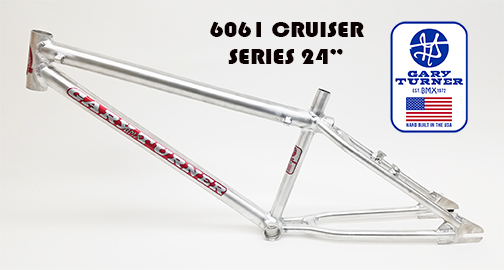 Fore more info visit gt1972.com