(Exclusive) 2019 Mongoose Title – Elite Series – BMX Racing Complete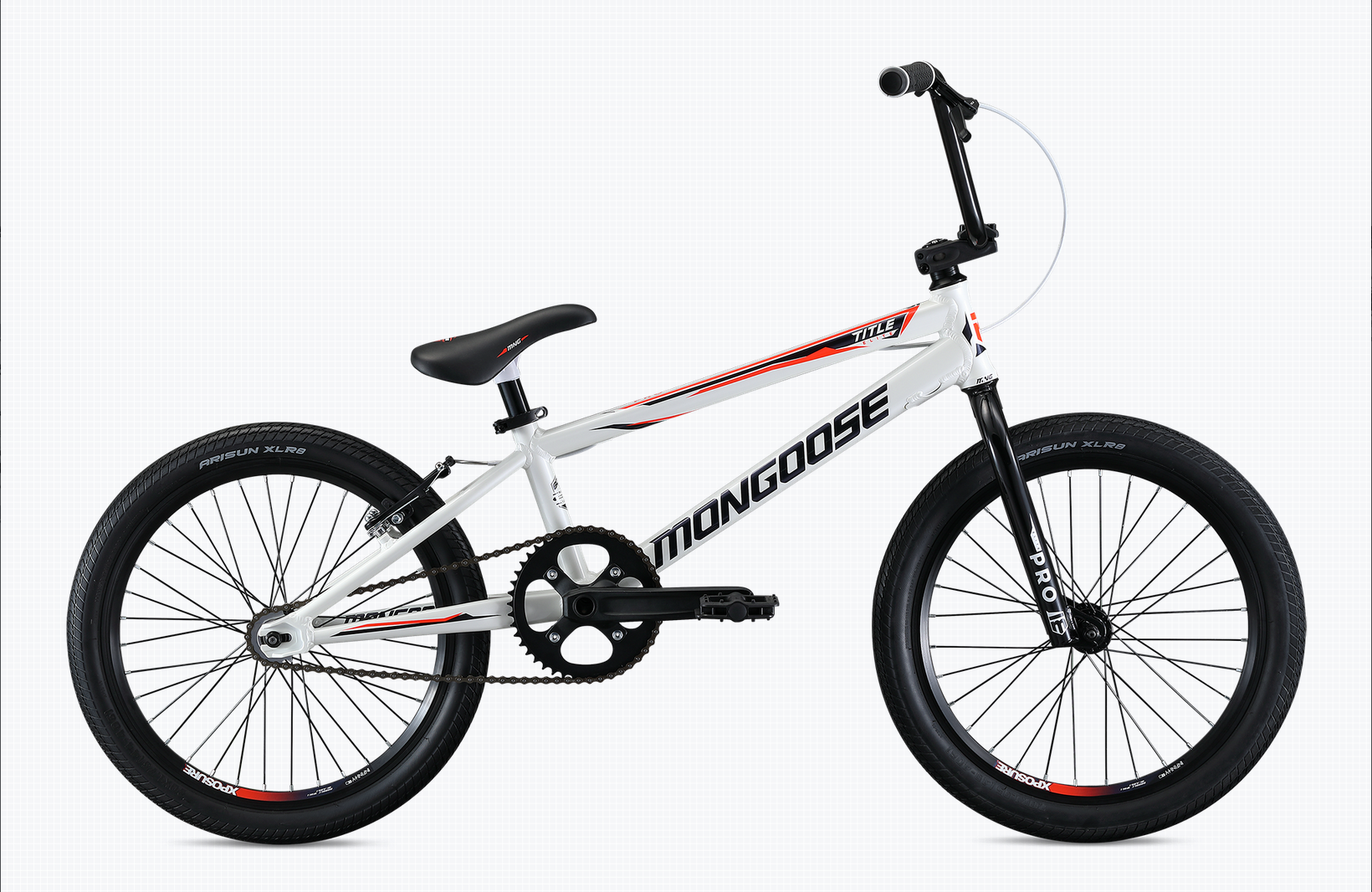 Legendary BMX Brand Mongoose had a successful and much talked about return to the BMX Racing scene with their super affordable "Title" complete series and now they're taking it a step further with the 2019 Title ELITE! The Title Elite takes the already awesome Title frame and upgrades it to elite level BMX racing quality. The stock parts also get a nice upgrade, Here's what we know so far…
1. The Title Elite will be coming in 3 sizes:
-Pro (20.75)
-Pro XL (21.26)
-Pro XXL (21.73)
2. The will only be available as completes
3. The Chainstay length with be a tad longer than the original title at 14.33
4. The bars and forks will be chromo on the Elite
5. The new cranks will be 2 piece this time and they will also be chromo
6. New extruded tubing is used on the frame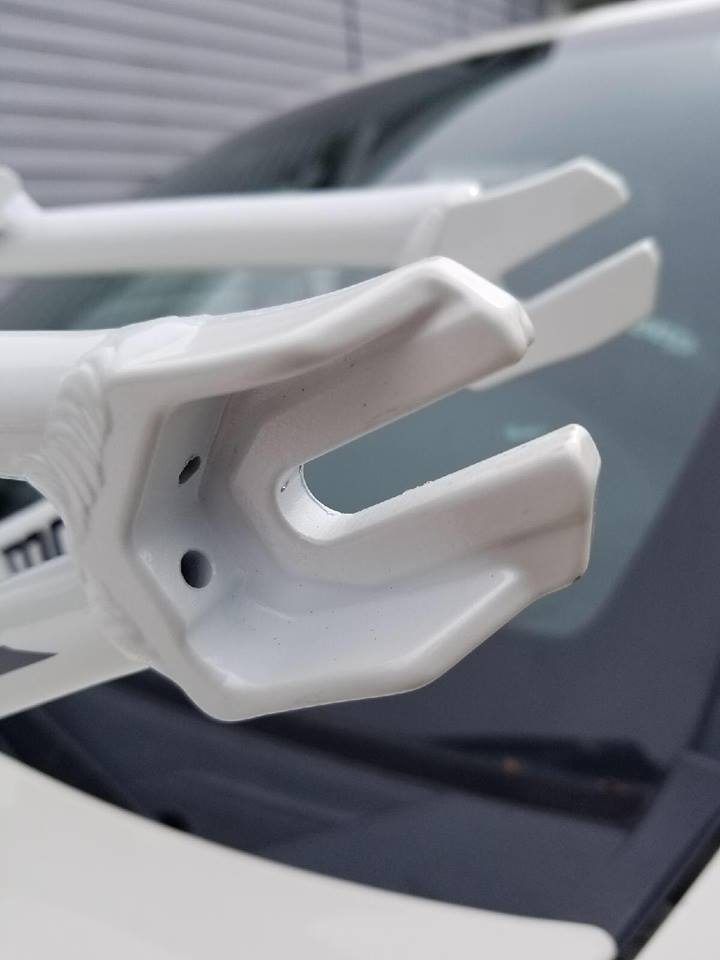 7. The dropouts get upgraded to the beefed 3d style for increased stiffness
8. BB86 Bottom Bracket
9. Flaired out seat tube
10. New colorway, White with orange and black decals
11. Price $450
12. Sealed cassette and sealed front hubs
13. Lock-on grips
Pretty awesome!!
You should be seeing the La Revolution Cafe team riders shredding the BMX racing tracks on the Title Elite really soon! Be sure to follow them on Facebook
We're super excited to see the Goose getting more involved in the BMX racing scene and we look forward to seeing these new Title Elites on the tracks this summer!
Now the previous Title line will still be available but for 2019 they will be getting the updated race decals and will be available in Blue. Wait a min. The last time we saw a Blue Mongoose racing bike was on the legendary, first generation Solution. Could the new blue colorway be a little tribute to the Solution?? OH SNAP!!
Redline Bicycles Coming With Some Oversized Retro BMX Heat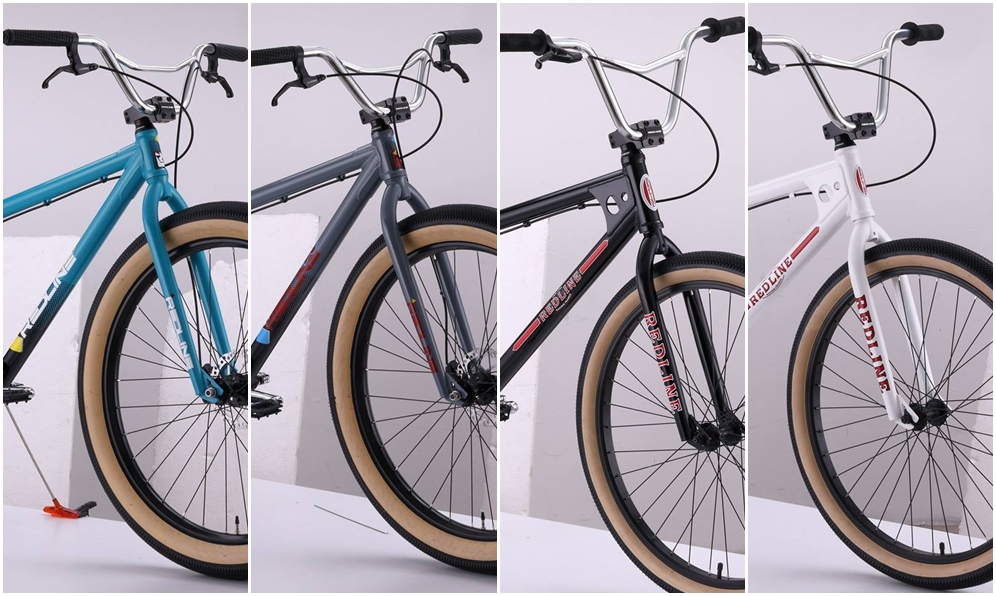 Looks like the folks at Redline Bicycles are diving knee deep into the over sized retro BMX scene with their latest installment of completes. They just leaked partial images of two model in two different colorways, the SQB-26 and the RL 275!
SQB-26
It's safe to assume that the SQB-26 is a 26″ updated remake of the classic 1976 Redline Squareback. We're loving how the front end, vintage decals and colorways used on this bike. Can't wait to see photos of the compete!
RL 275
The RL 275 is a bigger retro version of the 1986 Redline Prostyler and by the looks of it, they gave it fat tires to ride on. We bet the "275" represents the 27.5 wheel size of the bike. We're loving the blue colorway but man we wish they're coming with one in the classic turquoise color like the original bikes use to come in.
Find out more info about these bikes on Redline's Facebook Thread below
Radio Bikes Ceptor 26″ Complete, For Some Big Bike Shredding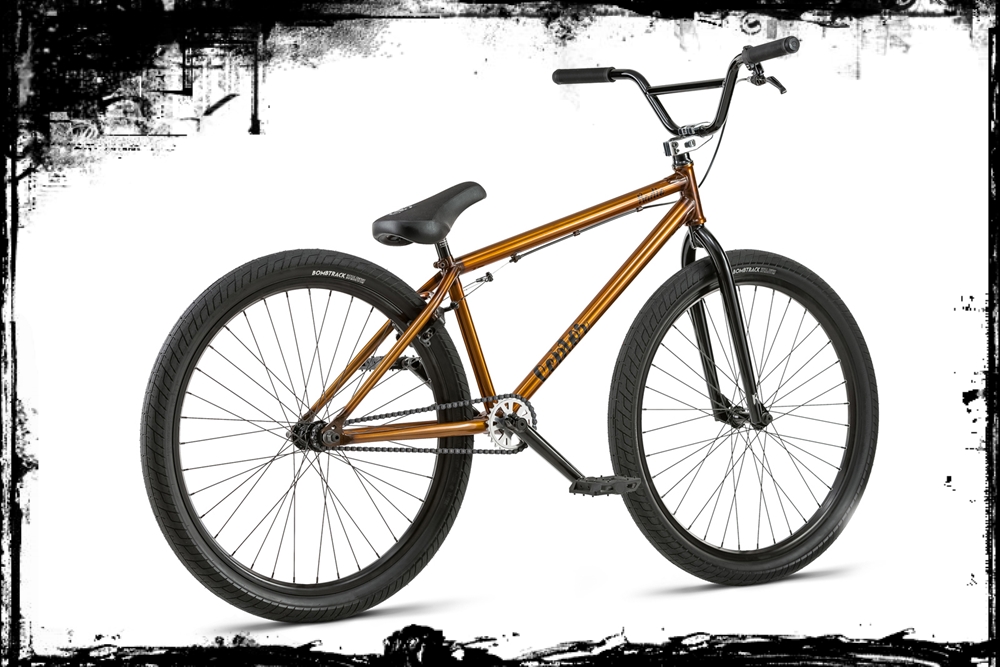 We're diggin the Ceptor 26″ BMX complete bike by Radio Bikes! The geometry on this bike make it literally look like a over-sized BMX bike. If your familiar with the "fixed Gear Freestyle" bike geometry, which is basically a just a fixed gear BMX bike, you'll be right at home aboard this wip!
Peep the specs below:
FRAME: crmo toptube, downtube, stays. 1020 hi-ten ht, bb, dropouts
FORK: RADIO "Ceptor" full crmo fork, 1pc steerer
BARS: RADIO "Ceptor" full crmo bar
GRIPS: SALTPLUS "XL" grips, flangeless
STEM: SALT "PRO" top loading stem, 50mm reach
HEADSET: SALT "PRO" int. headset, sealed bearing
LEVER: RADIO "AM" alloy brake lever
BRAKES: SALTPLUS "Geo XL" alloy rear u-brake
CRANKS: RADIO "PRO" tubular 3pc crank, crmo, 175mm, 8 spline
BB: mid size, press fit, sealed bearing
PEDALS: SALTPLUS "Stealth" nylon/fibreglass pedals
CHAIN: SALTPLUS "Warlock" half-link chain
SPROCKET: SALTPLUS "PRO" 6061-T6 alloy, 26t sprocket
DRIVER: 10t 1pc cassette driver, sealed bearing
FRONT HUB: RADIO "PRO" alloy hub, sealed bearing,3/8″s female axle, 36h
REAR HUB: RADIO "PRO" alloy cassette hub, sealed bearing, 14mm hollow axle, 36h
FRONT RIM: RADIO "FR32" rim, aero double wall, 36h
REAR RIM: RADIO "FR32" rim, aero double wall, 36h
SEAT: RADIO "Century" fat padded tripod seat
SEAT POST: RADIO alloy tripod post
SEAT CLAMP: integrated slim seat clamp
TIRES: BOMBTRACK "Helix V2″ tires, 2.3" front & rear
WEIGHT: 13.19kg (29.07lbs)
For more details visit RadioBikes.com
2019 CHASE EDGE Promo Video, How BMX Racing Should Be Presented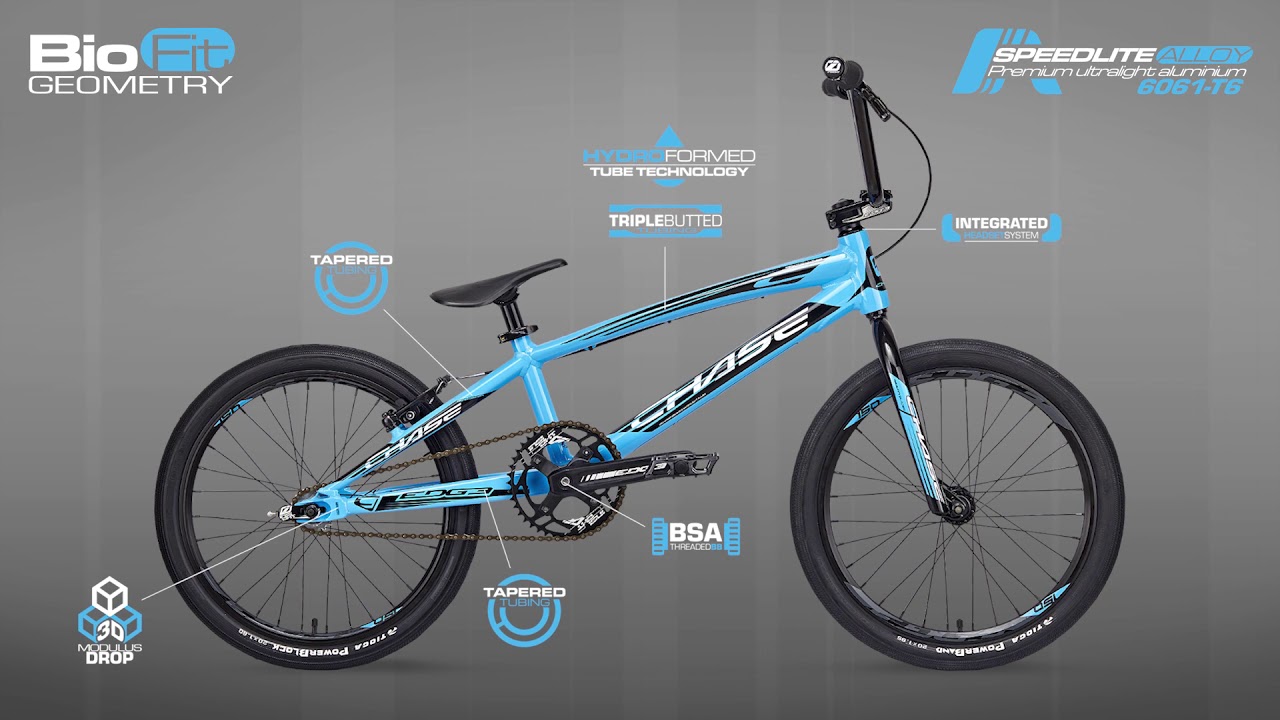 The folks at Chase Bicycles just dropped a promo video for their 2019 line of Edge completes and its awesome! The video is a great presentation of the bikes but it's also a great presentation of BMX racing. The 57 second video showcases the Edge bikes from different angles and it also gives us a quick view of all the available sizes. Chase team riders BMX World Champion Joris Daudet, Olympic Gold Medalist Connor Fields and BMX Legend Billy Griggs all had a quick cameo riding the track with the new bikes in the video. We would love to see this commercial playing on TV. It would be interesting to see if it would get more people interested in the sport. Either way we're loving it!
Big shout out to Chase Bicycles on this one! We can't wait to see what other marketing/promotion strategies they come up with.
"For 2019, we started out with the heart of the Edge, the frame, where we upgraded it with a new Triple butted Premium Ultralight Alloy Hydroformed tubed frame on the entire size range. We also changed the head tube, adding to the list of upgrades on the Frame." ~Chase Bicycles
Peep the Stats:
FRAME: Chase Edge Pro XL 21″ Top Tube 6061 T6 Alloy Triple butted Hydroformed, Integrated Head Tube, 1-1/8″, Water Decals
FORK: Chase Edge Full Cr-mo, 1-1/8″ Steer Tube With Tapered Blades
HANDLEBAR: Chase Edge Bar 8″ Rise, 12° Back Sweep & 1° Up Sweep
GRIPS: Insight C.O.G.S 145mm Alloy Clamps Laser Etched Logo, PVC End Plug
STEM: Chase Edge 50mm 6061 T6 Alloy Laser Etched Logo
HEADSET: Integrated Sealed Bearing
CRANKS: Chase Edge 3 Piece Crank 180mm Alloy Arm With Laser Etched Logo, Cr-mo Chain Ring Bolts / Nuts
BOTTOM BRACKET: 118mm Sealed Cartridge Isis BB
CHAINRING: Insight 44 Tooth 4 Bolts 104mm 1/2″x3/32″ 5mm Alloy Ring
CHAIN: KMC Z33 1/2″x3/32″
PEDALS: Platform Pedal 9/16″
RATIO GEAR: 44×16
SADDLE: Pro Pivotal
SEAT POST: Pivotal 27.2x250mm Alloy
SEAT POST CLAMP: Chase Edge QR Alloy 31.8mm
FRONT RIMS: Chase Edge 175 Double Wall 32H 20″x1.75″ Schrader Valve
REAR RIM: Chase Edge 175 Double Wall 36H 20″x1.75″ Schrader Valve
FRONT HUB: Pro Hub, 36H, Double Contact Seals Bearing with Dust Caps, 3/8″ Axle/Nuts
REAR HUB: 36H, Sealed Cartridge Bearings with Dust Caps, 3/8″ Axle/Nuts, Steel Cassette Body, 4 Pawls, 96 Points Of Engagement
COG: 16 Tooth
SPOKES: 14 Gauge
HEADS SPOKE: Brass
FRONT TIRE: Tioga PowerBlock 20″x1.85″
REAR TUBE: Tioga PowerBlock 20″x1.60″
BRAKE LEVER: Tektro ML520
BRAKE CANTILEVER: Tektro 837AL
CHAIN TENSIONNERS: Insight Twin Hole Laser Etched Logo
WEIGHT: 21.5 LBS / 9.51 KG without pedal
RIDER SIZE: 5'7″ – 5'11″ / 1M70 – 1M80
8 sizes available – Micro Mini, Mini, Junior, Expert, Expert XL, Pro, Pro XL, and Pro Cruiser
For more info visit ChaseBicycles.com