After a crazy 2 weeks of voting, Dwayne Taylor's 2020 Mongoose Title Elite is now 2019's Bike Of The Year! Out of all bikes listed on our Bike Of The Year list, the Goose got the most votes. There was some stiff competition on that list but the Goose has been taking the BMX racing world by storm and gaining a huge following. Mongoose has been killing it on all fronts in 2019 and this was the icing on the cake!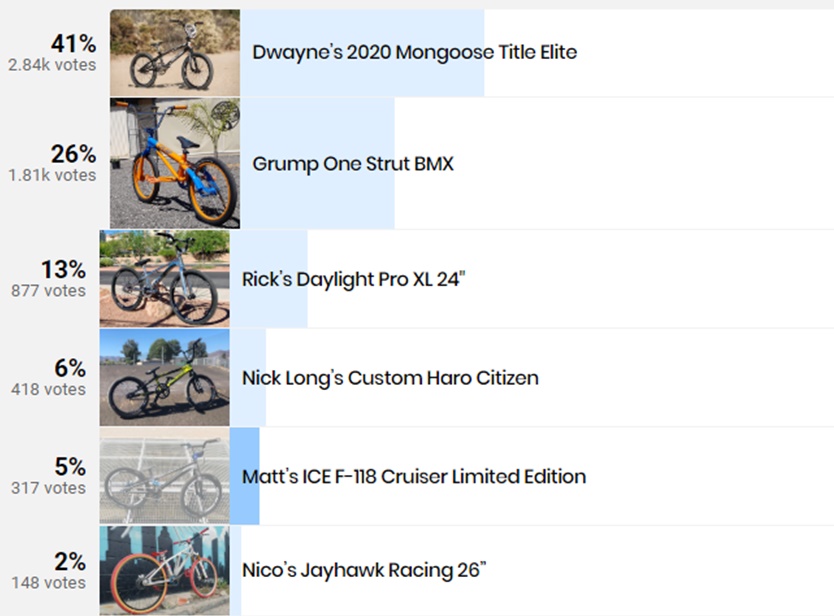 Big shout out to and congrats to Dwayne and the LRC/Mongoose team. Find out more about Dwayne's bike on our Bike Of The Day article about it. Also follow Mongoose on their official Instagram page
Submit Your Bike.
If you would like to get your bike featured as Bike Of The Day, send us some high quality photos(full and close up), a full parts list and a description about the inspiration for the build. Email them directly to sugarcaynecom@gmail.com. If we like your submission, we'll feature it. Any custom built BMX bike of any size and type are eligible. You Gotta Be In It To Win It!!