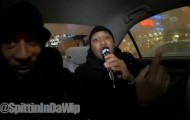 My dude John-O(@JustJohnollie) is back again with a new freestyle for Spittin In Da Wip!! If you don't already know John O has had the most appearances on Spittin In Da Wip and John goes in every time….more or less lol. Make sure you rate this episode after you watch it, all John O needs is at least 30 unique visitors to rate his episode in order to be eligible to get on the New Spittin In Da Wip Top 50 MC's list. Shout out too my dudes C.Truth and Mr Metasen for always reppin for Spittin In Da Wip
Wanna get on Spittin In Da Wip?? Register Online
Also peep the new mixtape by John O. & D. Rose called "Harlem To Houston" below.