Rodney Bynum, @PhoenixProCycle Bike Check #BMX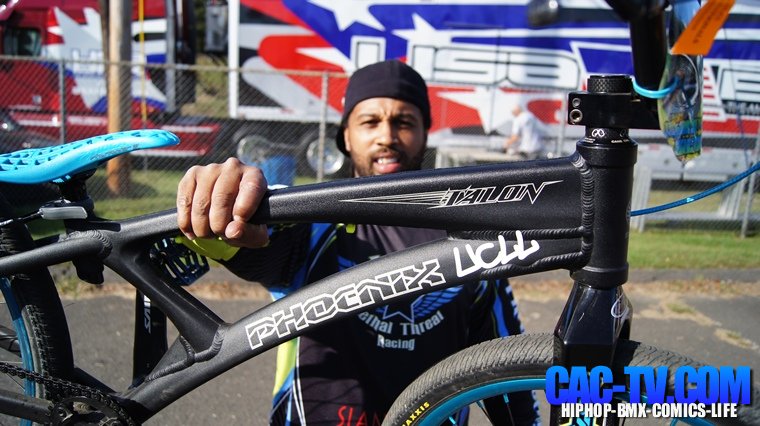 31-35 year old BMX Cruiser rider Rodney Bynum had a really dope Phoenix Talon Cruiser at the New England Nationals at T.R.A.C.K Trumbull CT. I had to get Rodney to do a bike check to get a look at what this bike is all about. Stay tuned for more bike checks, interviews, racing and edits!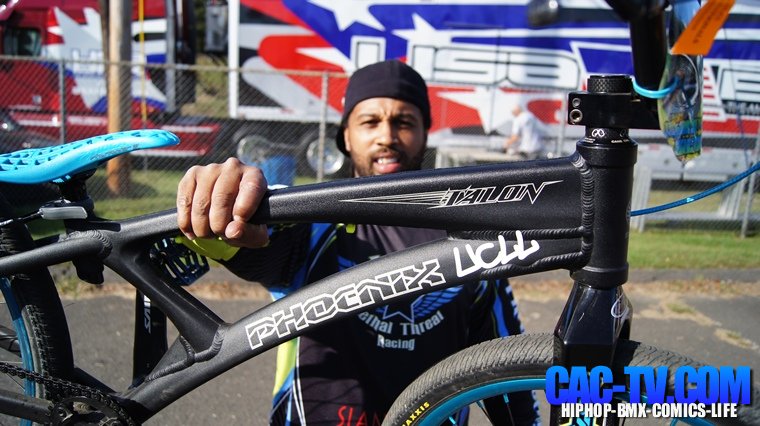 2018 Truth Main Event Pro XXL BMX Review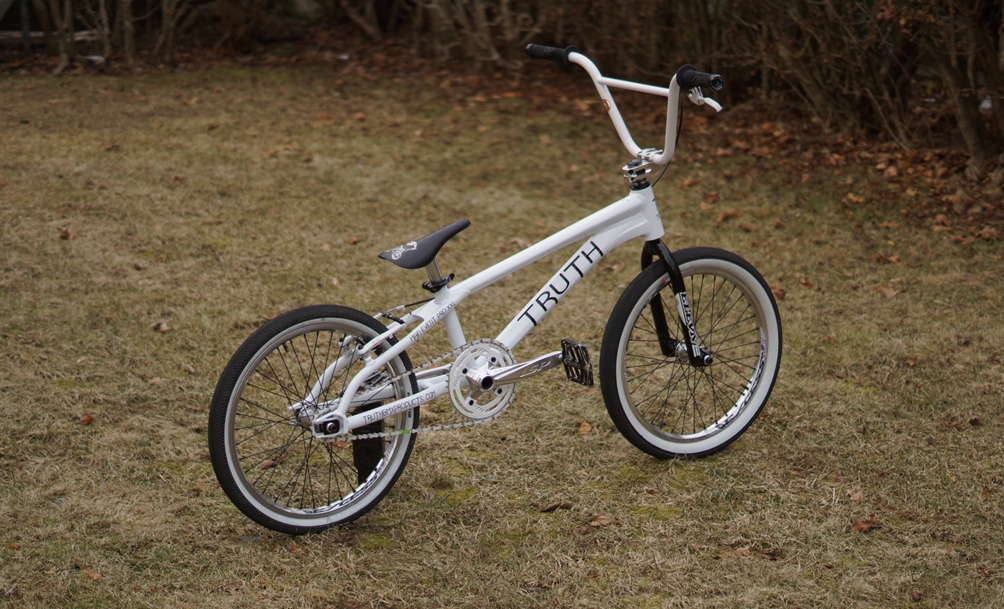 I finally finished my review video of the 2018 Truth BMX Main Event Pro XXL frame. This is a high end, elite level, BMX racing frame that has already been proven to handle the high demands of Elite Pro level BMX racing. Amateurs and pros across the globe have achieved plenty of podiums aboard the Main Event.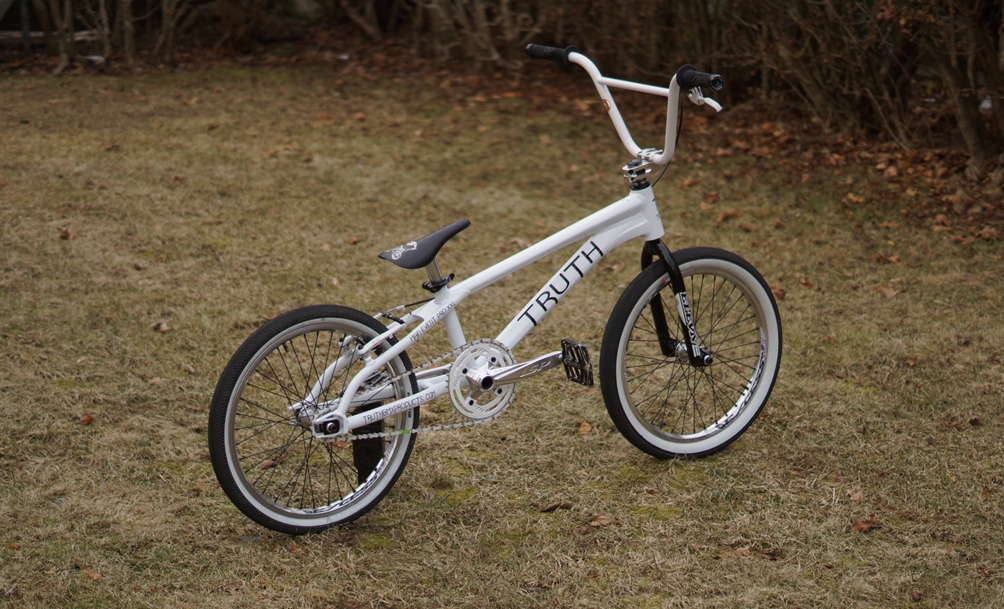 With all that said…your probably asking, well Why am I even reviewing this frame? Well my answer is this. Each bmx bike or frame have their own unique features. Those features can make a frame or bicycle more suitable (or less suitable) for your riding needs. The difference in top tube length, chain stay length, head tube angle, seat tube angle, seat tube length, bottom bracket height, the material used to build the frame etc, all play a part in how a bike performs.
Now I can safely say that today's elite level BMX racing frames are pretty much all top notch. So it's just the matter of personal preference that becomes the deciding factor on choosing a particular bike over the other. It doesn't necessary mean that one bike is better than the other.
Since the Truth Main Event has already been proven on the track, for this review I decided to focus more on how the frame is for everyday use. Just because it's BMX racing frame, there's no reason that you can't use it at the trails, parks, street or even commuting.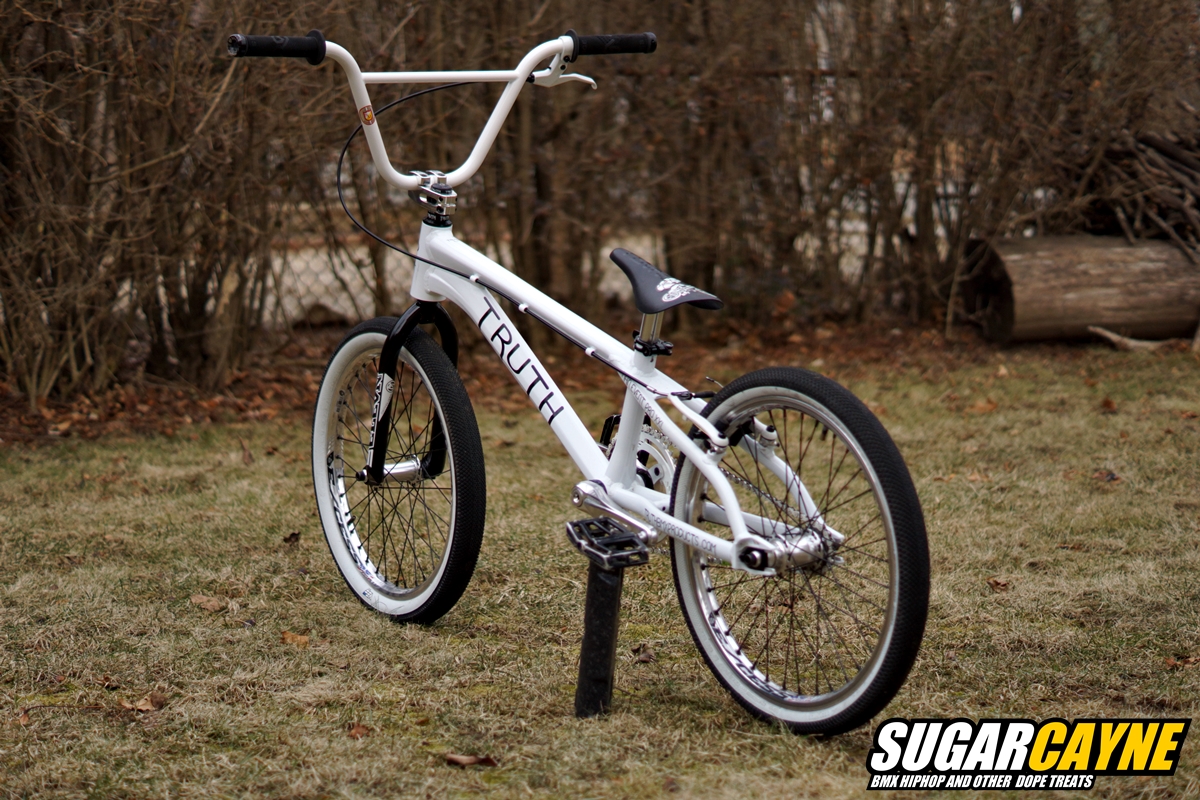 FRAME
So lets get into the some of the features of the frame. The Truth Main Event Pro XXL features a beautifully done Hydro Formed Top tube and Down Tube. It also features an even more defined, unique seat stay bent than the previous model.
The material used for this frame is Double Heat Treated 6069 T4-T6 Aluminum
The tapered head tube, bottom bracket and dropouts are CNC machined.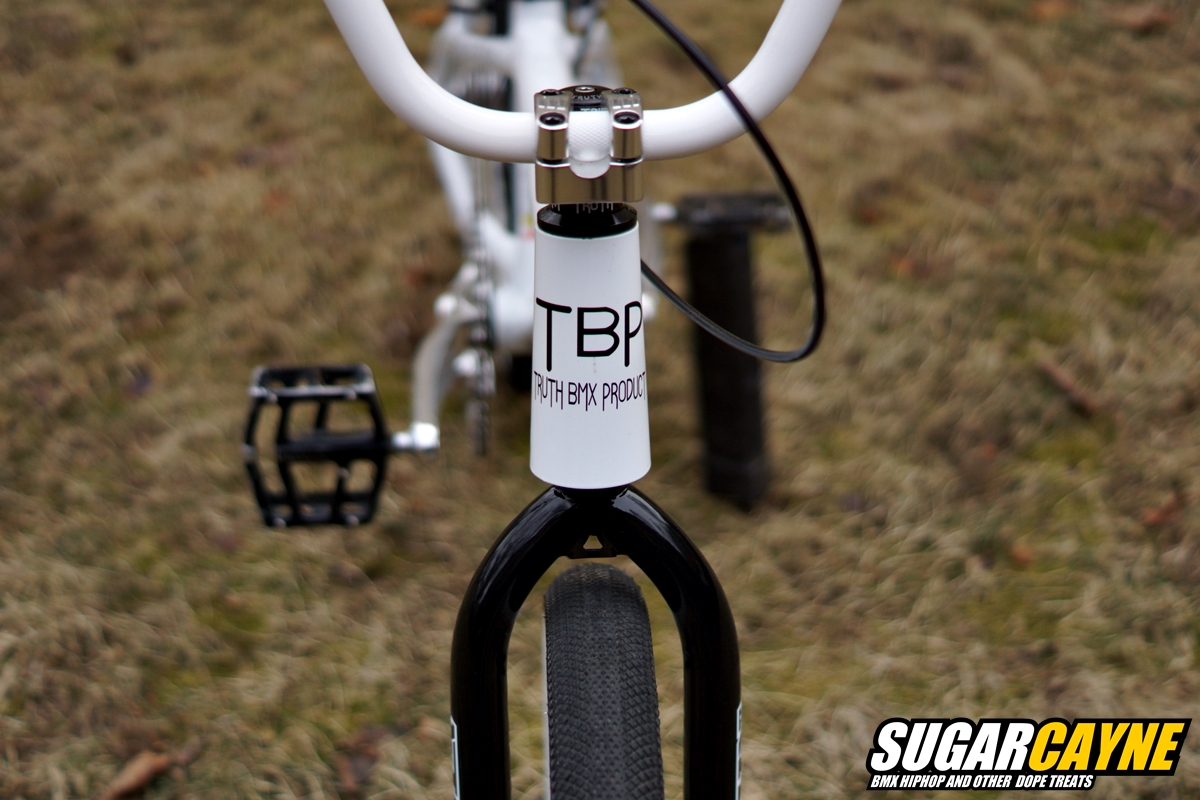 The dropouts are made to naturally fit 20mm axles but it comes with 10mm adapters.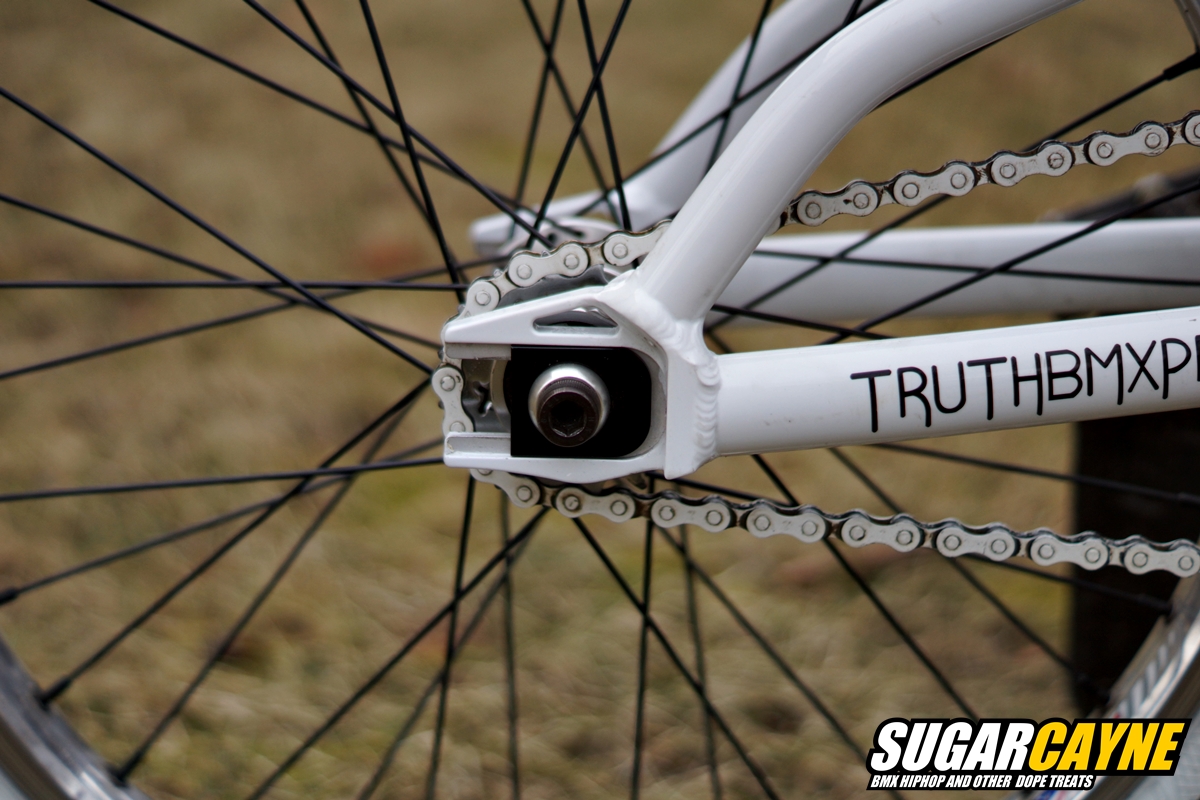 The seat tube is also tapered to reduce frame flex. This is done to improve acceleration.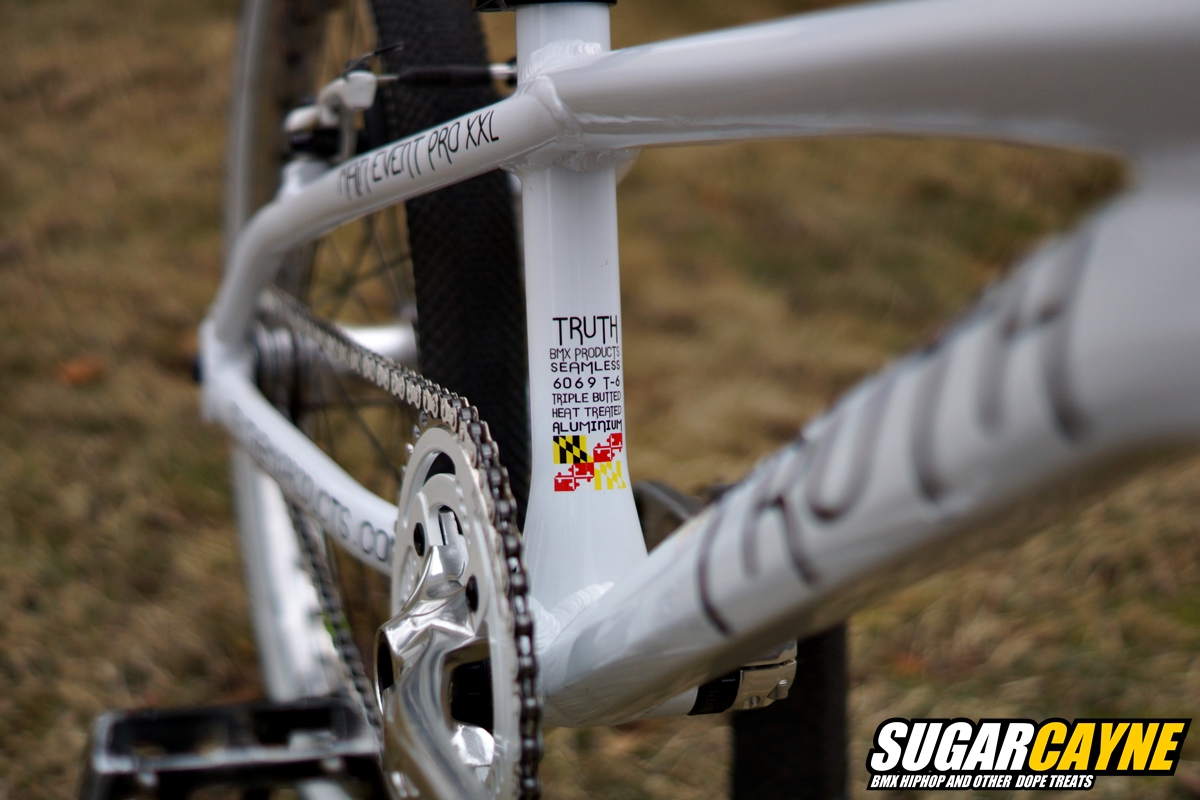 The Down Tube squares off at the bottom bracket to increase rigidity. The frame also features internal chain tensioners.
Top tube on the XXL is 21.75 inches. The chain stay length is a long 15.20inches. The head tube angle is 74.5 and the seat tube angle is 70 degrees.
Parts
The Main Event is currently only available as a frame so for this review I put on a bunch of parts that I already use on my bike.
For my forks I used the threadless 1-1/8th Elevn 8.0 Pro V2's. This is a 100% 4130 heat treated Chromoly fork with a Multi variable thickness in the steer tube. I've been using these forks since my last review and they're still going strong. They're meant for race but they can handle some serious abuse.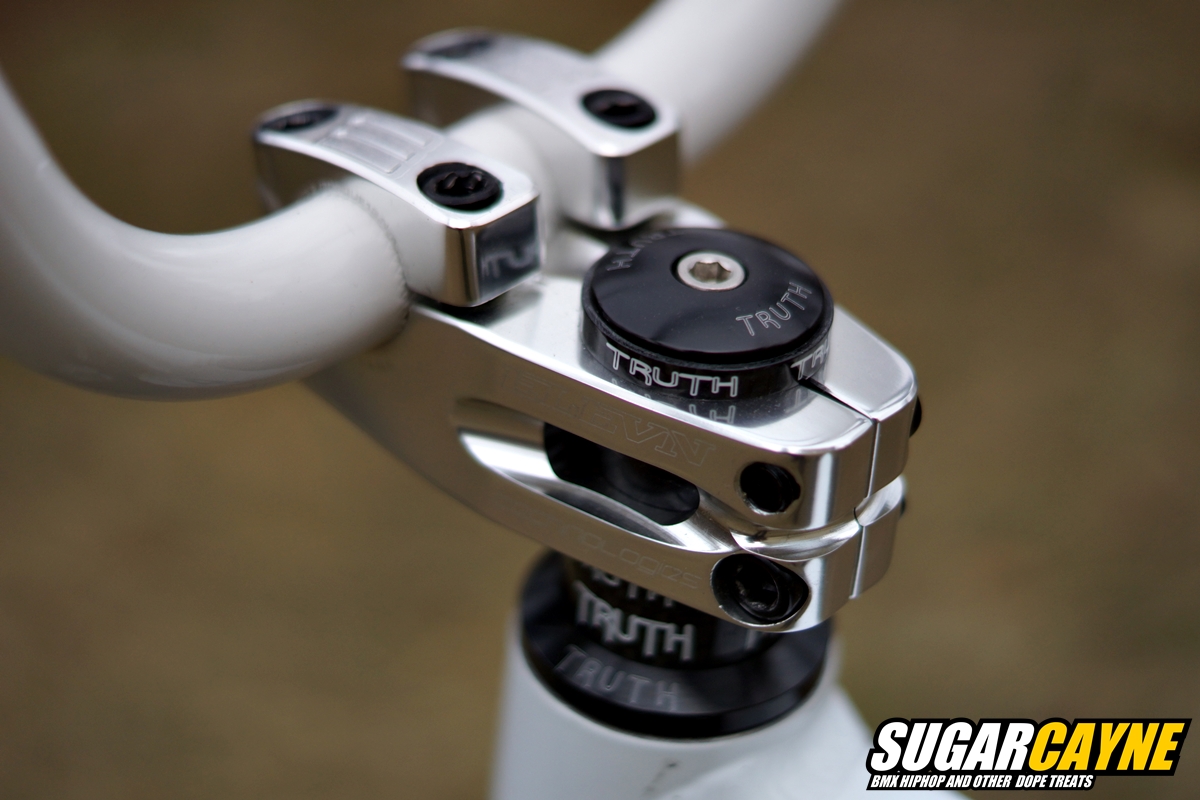 Elevn 22.2mm stem. It's super light, strong and it looks great. I've been using the 6061 CNC'd Elevn stem for several years now. I also used a truth headset and Truth spacers which looks awesome.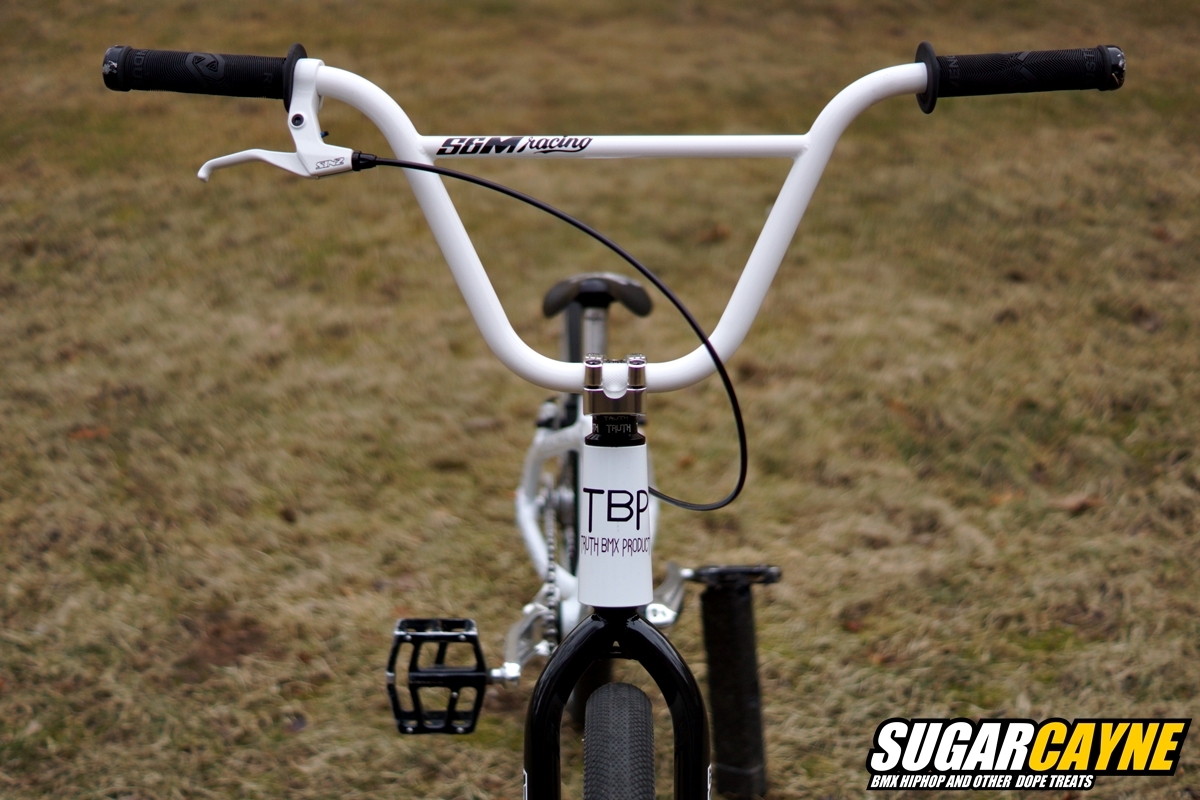 The tall S&M race XLT bars which have a 9.25 inch rise.
For the Wheels I used the stock Excess 351 Cassette Wheel set. I've been using these wheels for some time now and I really like em. I haven't had to put a spoke wrench to them yet.
My tires of choice are the awesome Vee Speedsters. You can beat the look of this frame with those White wall Vees. I've used these tires for a long while as well and I love em. Only problem is it's hard to keep those white walls clean.
The Ecess LSP cranks from my last review were used on this bike. They look great and have been holding up good so far. They did get loose from time to time. I also used the Sanfu Anorexic pedals. I've had this pair for a really long time. I've done plenty of miles with them on various bikes.
For the seat I used a snafu seat/seat post combo. It's light weight and it looks great on a bike. I've given out a bunch of these for my bike fest events. I'm also using a Truth quick release seat post clamp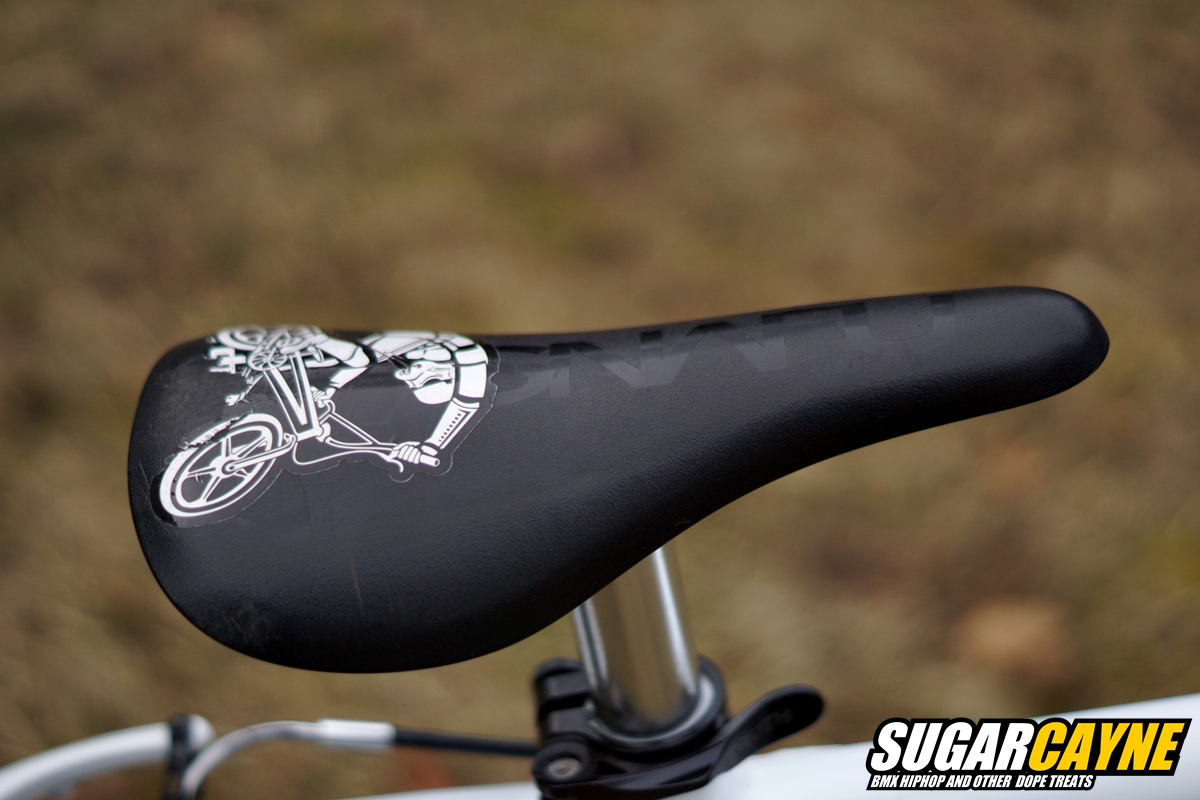 Elevn 4 bolt chain ring. It's made from CNC'd 6061-T6 aluminum with etched branding.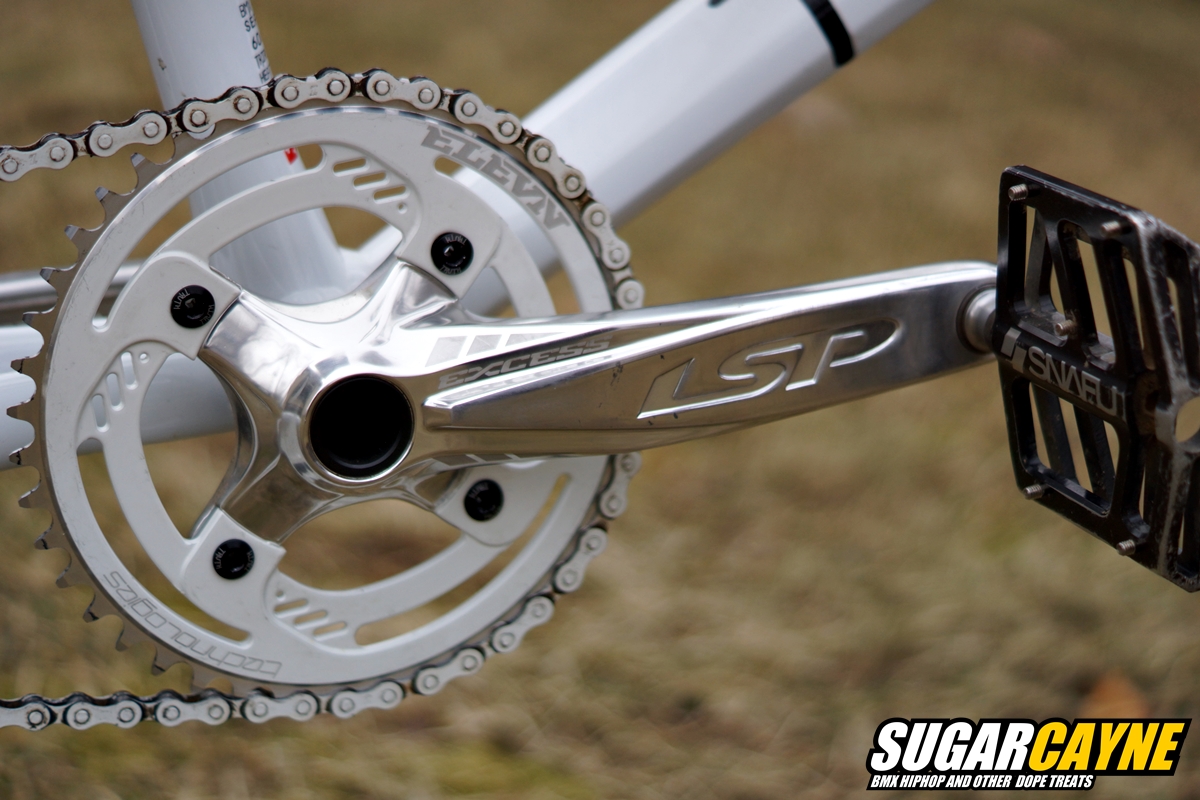 For my brakes I used the Sinz linear brake kit made from 6061 Aluminum. It comes with the lever, v-brakes and brake cable.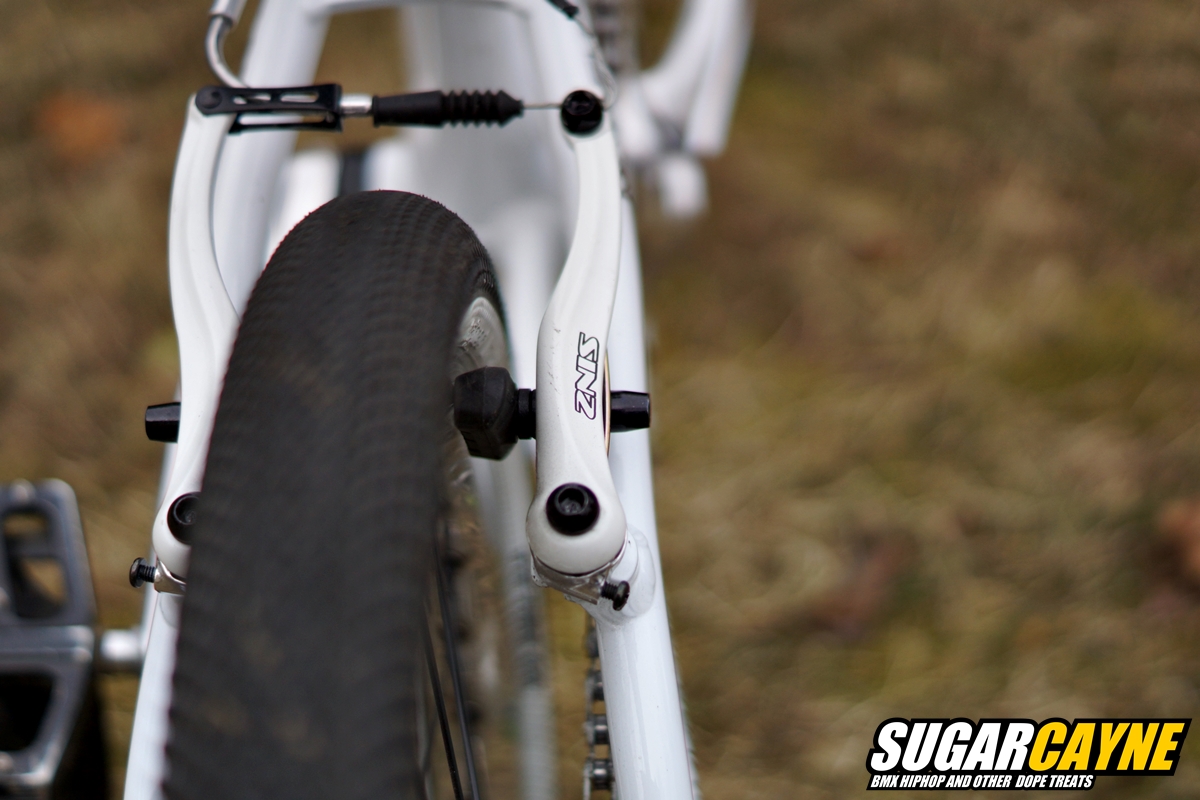 Since It was more about color coordination and style for this build I use a white KMC z410 Chain. Yes it's cheap but it looks so good on this bike and it does its job. The chain had a green link in it because I didn't install the new one yet :).
The Truth Main Event Pro XXL frame is a proven contender among the ranks of the bigger, more well known BMX brands and it is without question that Truth and the Main Event frame are making their mark in the industry.
For more info visit TruthBMXProducts.com
BIKE OF THE DAY: Upgraded 2018 Mongoose Title Pro XXL (20 Plus Photos)
The super affordable 2018 Mongoose Title Pro XXL complete has been causing a major buzz on the web! With a price point of $250, the Title is the most affordable XXL, pro sized BMX complete racing bike available. The goal for the folks at Mongoose was to make an elite pro level frame that is fitted with inexpensive (starter) parts to get more people on a BMX racing bike without breaking the bank. Now anyone who currently races as a pro or expert knows the original parts on the stock bike won't last long for the type of riding they do but the parts would do just fine(for a while) for beginners, novices, intermediates and riders/racers on a budget. But once your ready to upgrade or if you just bought the bike to upgrade from the start, here's an example of what can be done.
For my custom upgrade on the Title Pro XXL, I wanted to really make the bike flashy, color coordinated and a great performer on the track. In order to achieve that, I hooked my bike up with parts by Elevn, Excess, Vee and Hyper Bicycles. Hyper Bicycles have been a huge supporter of the Sugar Cayne Bike Fest and all my riding shenanigans so I had to represent and put on their 8.5 rise race bars. When it came to the grips I wanted them to match the green colorway of the decals. I went with some green Redline Hex Pro grips which actually feel pretty good. I also wanna point out,  the stock grips that come with the Title Pro XXL are really nice too….but they're not green..lol 😉
Ever since I put one my Skyway T/A back in 2013, I've always ridden with a 45mm Elevn Stem! It's super light, super strong, looks amazing and never failed on me. I actually kept the stock headset and top cap on but you know I had to put a Truth BMX Products spacer in the mix. I also kept the stock seat/post combo. It's actually just as lite as your standard, race seat/post combo plus the graphics go with the frame. I used a Snafu seat clamp to hold it to the frame.
Next up are the forks! I hooked up the bike with a black Elevn 8.0 race fork. The forks are light and strong just like I like it 😉 For the wheels I went with a fresh set of Excess 351's. I've been ridding with a set of 351 wheels on my PK Ripper since 2015, I must have done over 1000 miles with them. I did long distance rides, races, hit up the trails, pump tracks, bike parks and all that. I haven't put a spoke wrench to them yet. These wheels are awesome and fast!
Now the tires was where things got a lil crazy lol!! I really wanted to put on green wall race tires on the Title Pro XXL. I looked all over and could not find any…anywhere!! I wanted my bike to be as light as possible so street tires were out the question and even if they were, you'd never find them in anything smaller than a 20 x1.90..if that lol!! I'm a huge fan of the VEE Speedsters, I've been rolling on those tires for a while now and I love em.  The VEE Speedsters come in a bunch of side wall colors and I was hoping I'd find a some green wall versions of them…..but NOPE!!! 🙁 . They even had a run of green tires with black walls but those aren't available anymore….DAaanngg!! 🙁 . I even contacted them to see if I could get a custom, green wall set done for me lol….but Nope..lol!! Anyways I had to settle for the blue walls. They still look great but green walls would've taken the look over the top.
I've always wanted to try out the 2 piece EXCESS LSP cranks so I got some put on the Goose with a nice blue Elevn chain ring to go with the blue wall tires of course 😉 I already knew it was gonna be hard to find some racing performance pedals in a green color that would match the green on the frame (Plus my budget was low) so I got these cool Rant "Hella" pedals. I've also been on this "Gotta get a colored chain to match" thing over the past few year and KMC is my go to brand for that.
Now the only place I was slacking was with the brakes. I've had these Bombshell V brakes for ever so I took them off my other bike and put on the Goose. The brake cable is the stock one that came with the bike and the brake lever is and old Tektro that I had for a while.
Well that's about it with this build. I actually rode it for the first time since the upgrade at Trumbull T.R.A.C.K. in Connecticut last weekend. I wound up racing and got a 2nd….Aww yeah!! The bike felt great on the track and you can definitely feel a huge the difference in ride quality when you upgrade the parts…… Big shout to Mongoose on this one, The Title Pro XXL is Legit!!!
I also have to give a big shout out and thank you to my sponsors Hyper Bicycles, Snafu BMX, BMX Racing Group, Truth BMX Products, Team Corrosive and DHD Wear!! I couldn't even come close to do what I'm doing without all their support!
Now check out the flicks below and also leave a comment and let me know what you think of the build.
Action photos take by Zac Gietek
2018 Haro Lineage Complete Line Release At Interbike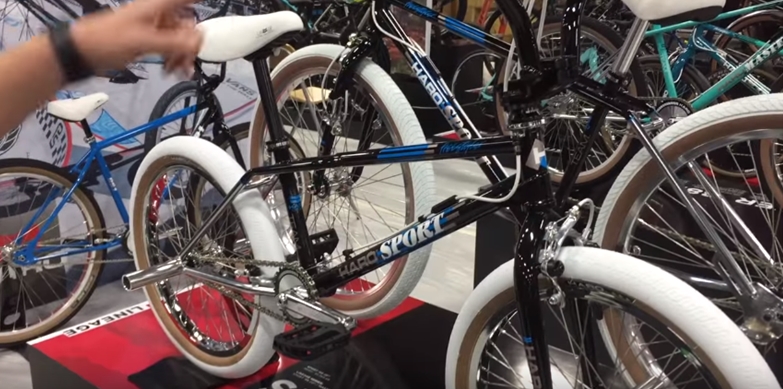 The 2018 Haro Lineage Competes are here and they look amazing!! Haro has really out done its self this time around with updates to 3 of their classic bikes. First up is the 1988 Haro Team Master…Yes the one that came in that aqua colorway!!! If you were around when this bike first came out you already know how awesome this is. Everybody wanted this bike and it looks just as amazing now as it did back then. The bike comes in 20″ and 26″ sizes! Next up is the classic 1988 Haro Team Sport in that sick black/chrome colorway. The Sport also comes in 20″ and 26″ sizes. And last but not least is a the 1988 Haro Group 1 "Pistol" Pete Loncarevich signature model 29″!!! BOOM!!
In the video Haro's BMX Brand Manager John Buultjens introduces the 2018 Haro Lineage completes at Interbike and breaks down all the amazing features of each one. Now how's that for awesome news!! Time to save up! 🙂