The list of baseball team themed BMX completes by Framed and MLB is getting bigger. We're really diggin this San Francisco Giants bike. The SF Giants inspired BMX does a nice job at using the baseball team colors making it one the best looking bikes out of the series so far.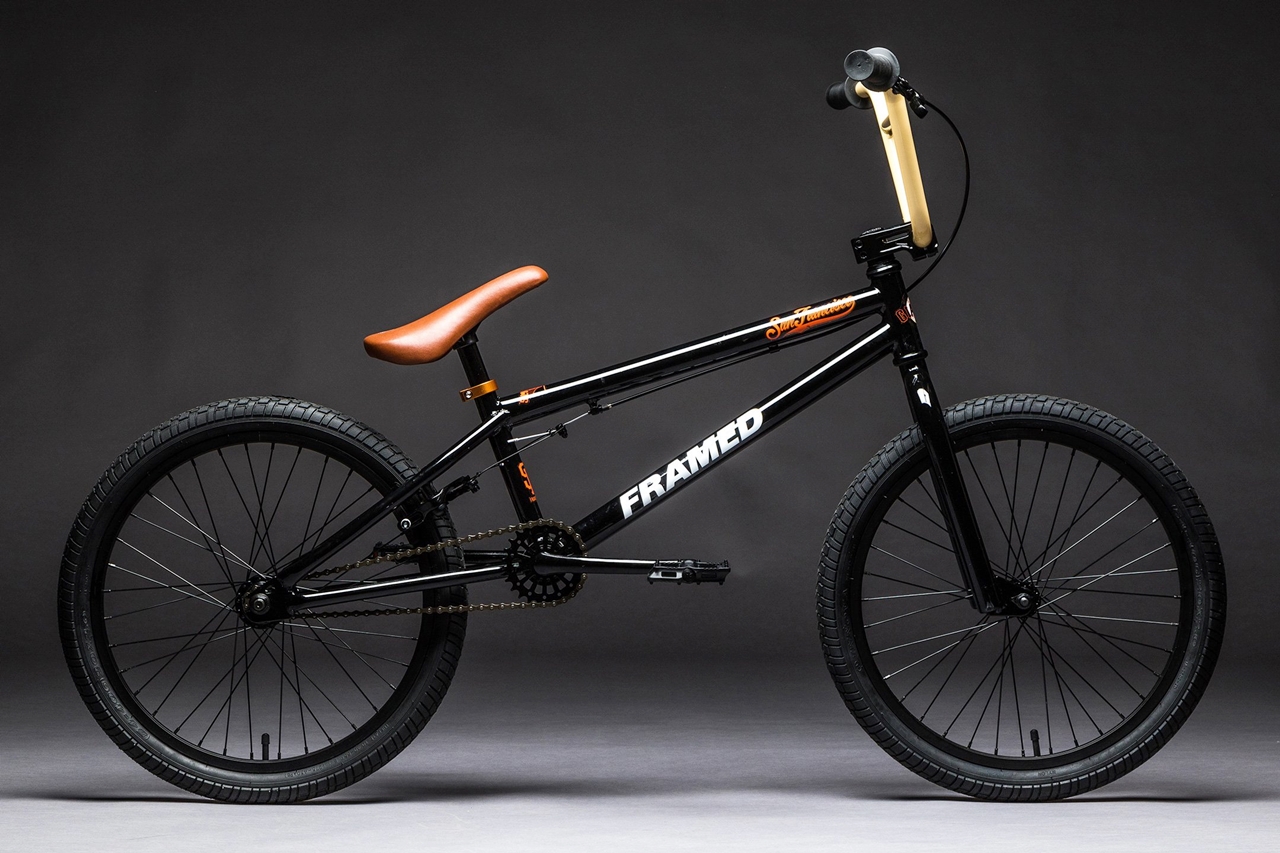 The bike is black with highlights of the Giants gold, orange and cream colors on the parts. Cream is used on the handlebars. The bars also have black Velo Mushroom 150mm grips. The seat and seat post clamp favor the gold part of the team colors and the team decals are orange. The seat also has the MLB patch on it.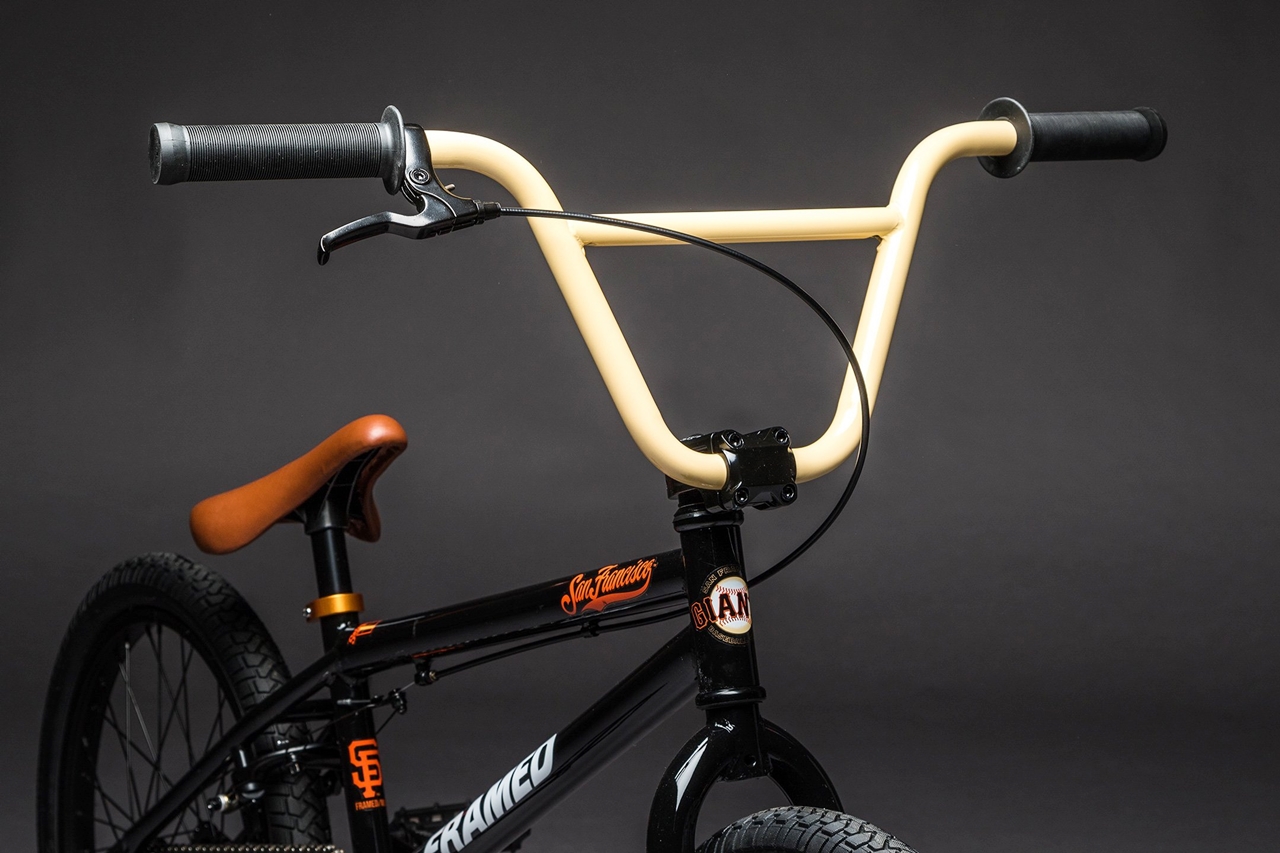 This bike is based off Framed's "Verdict" complete. The"Verdict" is base level quality wise, meaning the frame, fork and bars are all Hi-Ten 🙁 . I wouldn't recommend you dropping of roofs with this one but this bike should be able to handle cruising around town and beginner level BMX trick shenanigans 😉 .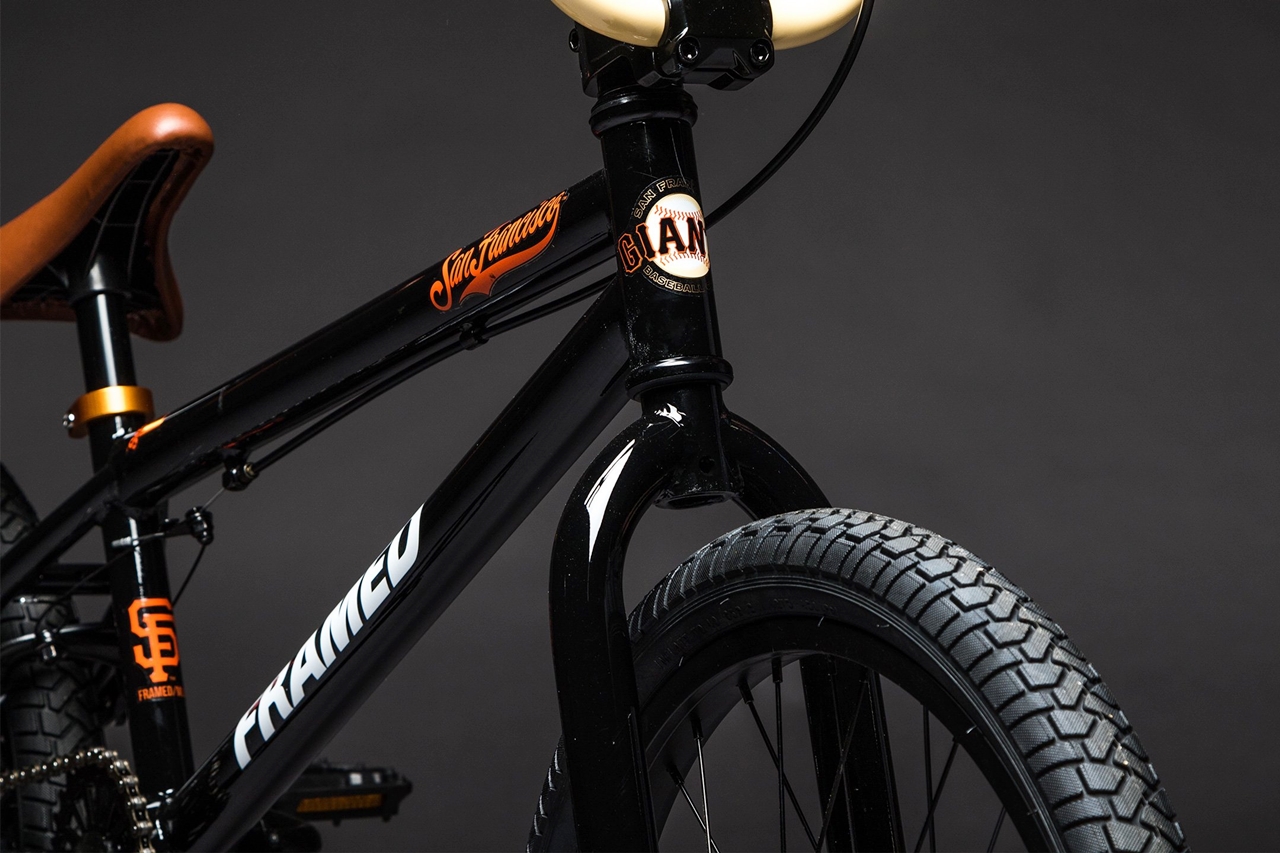 We're not sure why on earth they went with an American bottom bracket in this day and age. They're even using 1 piece cranks 🙁 . But they do have a 1/18 headset 😉 . I guess it's safe to say the headset is press fit 🙁 . And everything is unsealed 🙁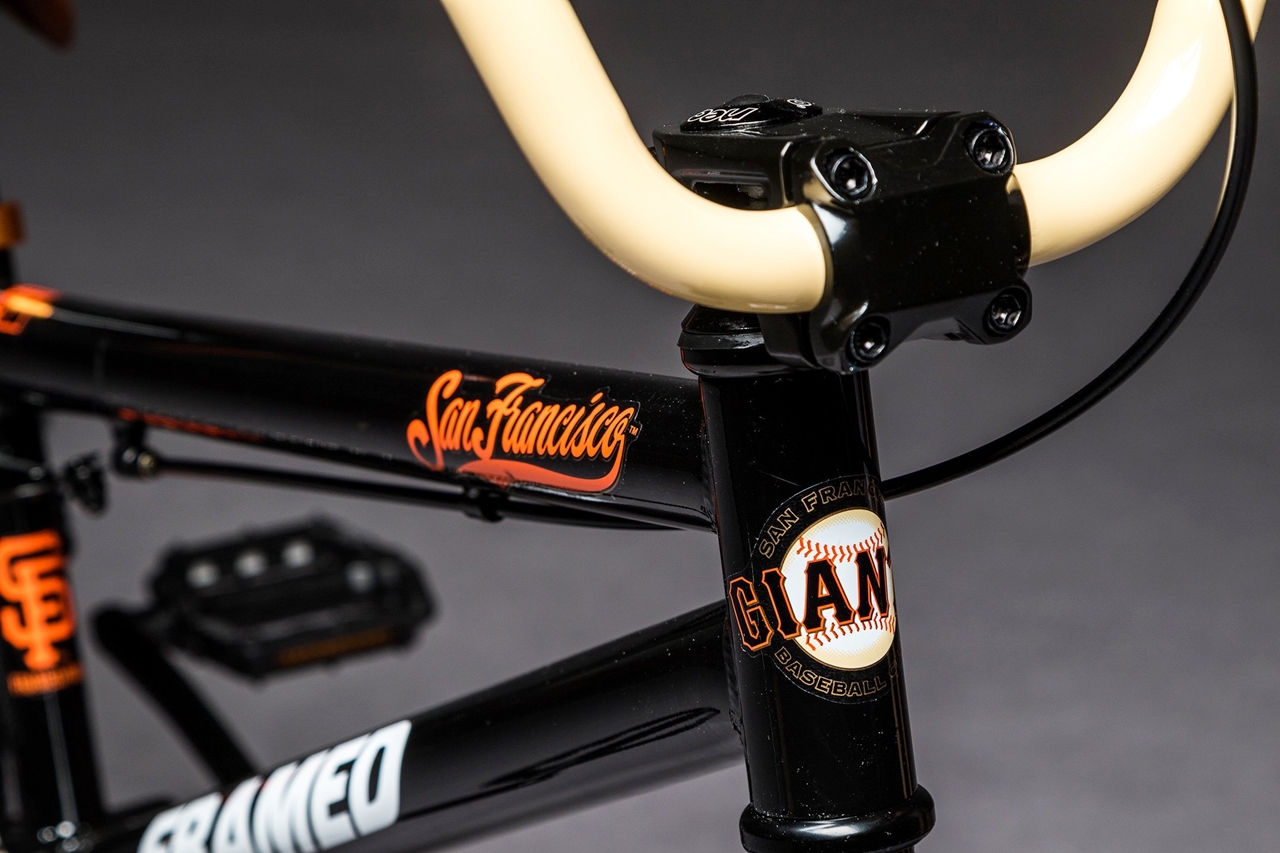 If your a BMX enthusiast or if you shred at the trails and parks, this bike is probably not for you. But if your a big Baseball and BMX fan, these MLB bikes would be perfect for a unique collection. We just wish Framed made a few pro level MLB themed BMX bikes.
At the end of the day you can't be mad at the $179 price tag. And one thing I really like about this bike is even though the bike built with beginner level quality, the bike actually looks great! It's got a Walmart price with a bike shop look 😉 Plus this could help to get more people into the sport and that's always a good thing.
SPECS:
Frame: Hi-Ten Steel
Top Tube: 20″
Seat Tube: 9.25″
Chainstay: 13.5″
BB Height: 12″
Standover Height: 22.5″
Wheel Base: 36″
Fork: Hi-Ten Steel; 1-1/8″
Handlebar: Framed Hi-Ten Steel 2 Piece 8″ X 28″
Grips: Velo Mushroom 150mm
Stem: Framed Alloy Front Load
Headset: Standard 1/8″ Loose Ball Unsealed
Brake Lever: Framed Alloy Lever
Rear Brake: Framed Alloy U-Brake
Front Brake: N/A
Crank: 1 Piece Forged Steel 175mm
Crank Spindle: N/A
Bottom Bracket: American Loose Ball Unsealed
Chain: KMC Z410
Chain Ring: 25 Tooth Steel
Rear Free Wheel: 9 Tooth Cassette
Front Hub: Alloy 36H Unsealed 3/8″ Axle
Rear Hub: Alloy 36H Unsealed 14mm Axle
Rims: Alloy Single Wall 36 Hole
Tires: 20″ X 2.125″ Front, 20″X 1.95″ Rear
Saddle: 1 Piece Seat and Post
Seat Post: 25.4mm Alloy
Clamp: 28.6mm Alloy
Pedals: 1/2″ Nylon Composite
Pegs: No Pegs
Weight: 25lbs 2oz
Find out more on Framed's Official website