GT is bringing back another legendary BMX model for their Heritage line, the Pro Series! The Pro Series is one of GT's longest running models. It's been around since the 80's all the way up till last year. The 2020 Pro Series Heritage takes us back to it's early days in the 80's with its signature top tube that goes all the way to the seat stays. It also has that same slant at the end of the tube. We're pretty sure they put the GT logo on that part.
Keeping with the 80's vibes, GT did a slightly updated version of the original down tube decals and frame pads. Speaking of the pad set, check out the GT/Dyno pads on the white bike, Nice! There's even a nod to the Pro Series later design on the rear end of the bike with the bend in the chain stays. Another nod to the bike's later designs is GT's choice of making the frame Aluminum instead of chromoly.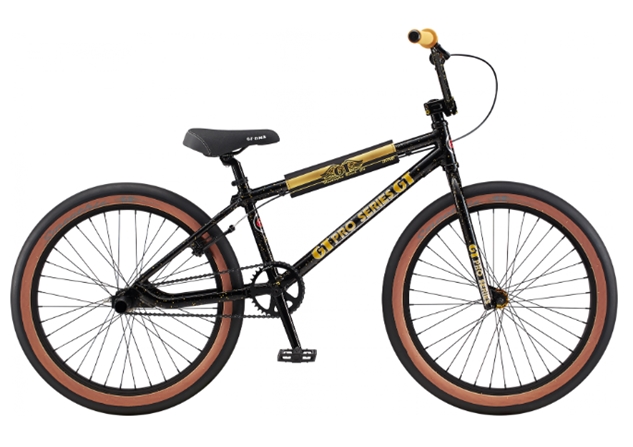 Since the current wave in BMX for the older crowd is plus sized bikes, GT went with making this model 24inch. And since plus size BMX bikes are the bike of choice for the wildly popular Bikelife scene, GT added some features for them. For the first time ever the Pro Series comes with pegs on the rear axle and it also comes with a super cushy seat. They even have their own branded, super slick "Smoothie" tire. A perfect setup for the wheelie squads out there.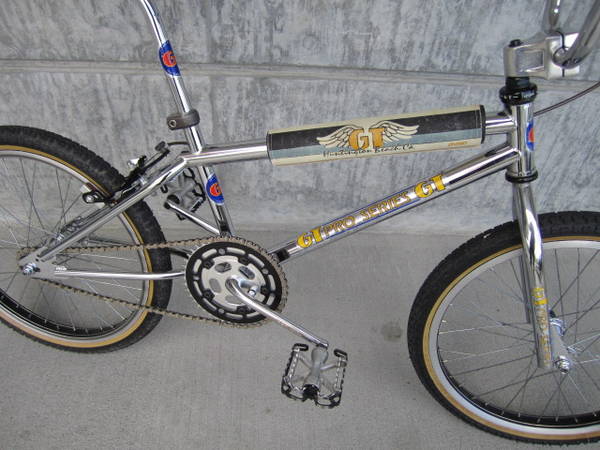 Now if you know the roots of the Pro Series you would know it has always been a BMX racing bike. Now some folks in the 80's may have used it for a freestyle bike but it has always been a racing bike. So we found this description about this bike on GT's website a little off
"Travel back in time and enjoy the early days of freestyle aboard this machine that pays homage to GT's Freestyle roots." ~GT Bicycles
I would have to say this bike pays homage to more of the racing roots than freestyle…but it's awesome either way. Let us know what you think in the comments below.
For more details and specs visit GTBicycles.com